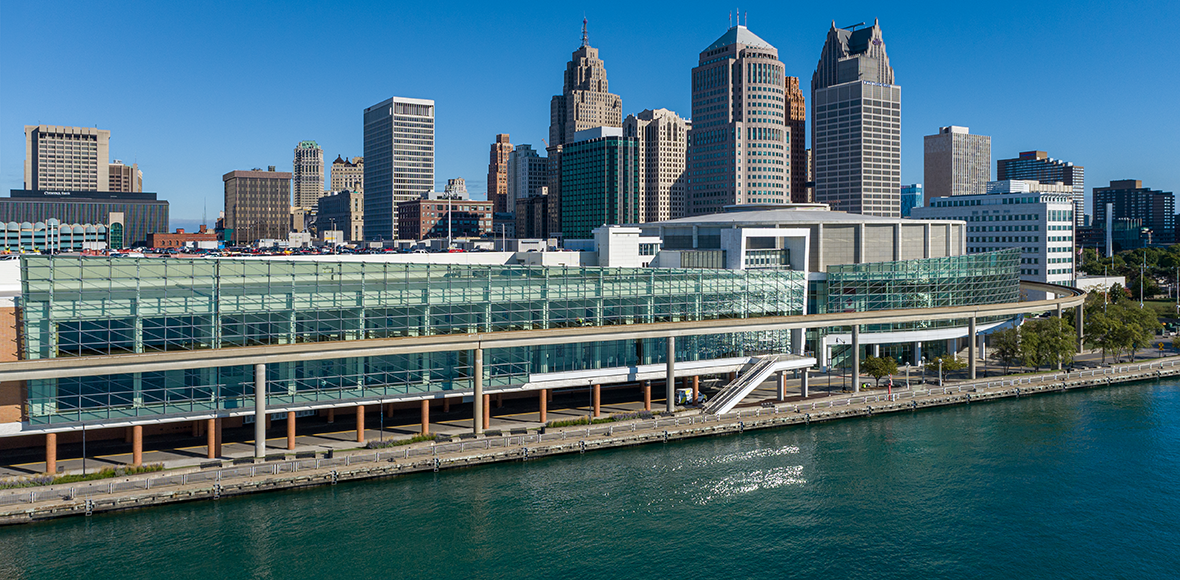 The Award Winning Huntington Place Shines in 2023
2023 proved to be the year of re-emergence for Huntington Place and the city of Detroit was noted in several "best of" hospitality categories. The Wall Street Journal ranked the Detroit venue as 19th best in the country, ahead the New York Javits Center, the Los Angeles Convention Center and San Francisco's Moscone Center among others. Detroit was again rated for the best Riverwalk by USA Today (the Riverwalk stretches in front of Huntington Place and runs for 5.5 miles with several parks and lots of civic activity.) Detroit was named one of the Top 10 Places to Travel in 2023 by TIME's Worlds Greatest Places list for travel in its list of the world's greatest places. And when BonusFinder.com compared NFL venues using nine different categories, Detroit was named best city for NFL visitors.
Huntington Place itself received numerous industry awards recognizing success in service, sustainability and overall excellence. The venue was honored with five major industry awards in one year topping out with nine of the team being nominated for the highly acclaimed hospitality award, the Rose Award. These 2023 awards include the Rose Award Behind the Scenes Service, the Distinctive Achievement Award (Association Conventions & Facilities), the Prime Site Award (Facilities & Destinations), the Centers of Excellence Award (Exhibitor Magazine) and LEED Gold Certification from the U.S. Green Buildings Council (USGBC.)
"Huntington Place, which is managed by ASM Global, is always so honored to be recognized by our community, our industry and through national awards. Being highlighted is a motivator for our team who work exceptionally hard to make a positive impact," said Karen Totaro, general manager Huntington Place, ASM Global. "We strive to make Detroit proud of all that Huntington Place is and does. As a business, Huntington Place/ASM Global needs to stay top of mind for our clients and, awards/recognitions give us just the right type of exposure for clients to see us as the industry leader we are."

Visit Detroit Rose Awards
For over two decades, the annual Visit Detroit ROSE Awards have been dedicated to honoring the true power and dedication of individuals in metro Detroit's hospitality industry. Detroit hospitality workers are what makes the region a great place to work, stay and play — and the Detroit community simply wouldn't succeed without them. Candidates for the Rose Awards are nominated by both the general public and/or a supervisor or a human resources director/manager. After all votes are cast, a panel of hospitality-industry judges will choose a winner in each of the six categories.
Nine employees from the Huntington Place team were nominated for a highly acclaimed hospitality Rose Award in 2023. No entity had a larger number of recognized hospitality professionals nominated, with 3 finalists and 1 significant win in the "Behind the Scenes" category.
The 2023 Behind the Scenes Rose Award went to Information Desk Officer, Thomasina Bryant. As an essential member of the Huntington Place Public Safety department, Thomasina is often the first person to greet and direct visitors in her station at the information desk on the venue concourse. She is also the person that visitors go to when they have a problem and she excels at quickly gathering the resources needed to assist. Her confident and caring demeanor made her the logical choice for the best "behind the scenes" person in the city this year. That says a lot!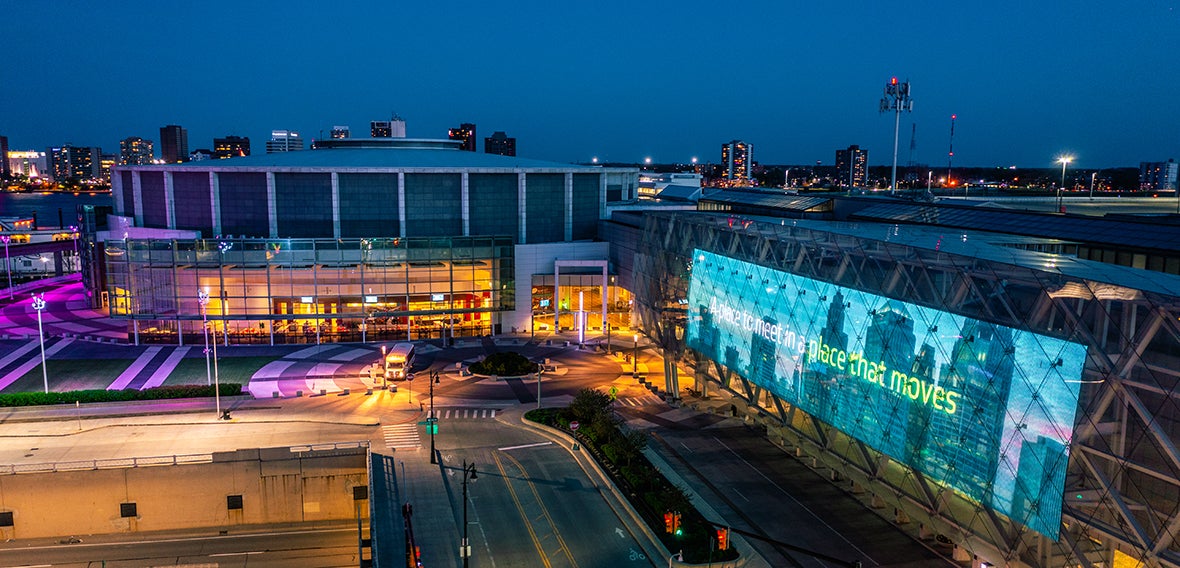 Prime Site Award (Facilities and Destinations Magazine)
For the 12th year in a row, Facilities & Destinations Magazine has recognized Huntington Place with its Prime Site Award, as a venue that is an ideal environment for stakeholders to engage in dialogue, brainstorming, learning and networking. Winning the award signals client satisfaction on many levels and recognizes that the center is a standout in a competitive meetings marketplace.
Centers of Excellence Award (Exhibitor Magazine)
Exhibitor Magazine readers evaluated their favorite convention centers using an objective algorithm weighted to reflect how they value a variety of variables. The myriad criteria considered were categorized into five primary areas:
Facility & Functionality

Location & Accommodations

Service & Execution

Expansions & Upgrades

Awards & Industry Participation
Huntington Place has received the distinguished Centers of Excellence Award for five years in a row. The award is a particular honor because essentially it comes from the venue's trade show customers. This year, Huntington Place also was recognized for Best Customer Service & On-Site Support,
Distinctive Achievement Award (Association Conventions & Facilities)
Association Conventions & Facilities magazine recognizes those convention centers and visitors bureaus that have demonstrated their overall commitment to excellence annually with their Distinctive Achievement Awards. The 20,500+ subscribers are offered the opportunity to vote. Ballots are sent to subscribers via email. Eligible ballots are limited to those submitted by meeting planner subscribers; and only one ballot per subscriber is accepted. Judging criteria includes: superior services and support; top-notch assistance with promotion and site-inspections; and high level of assistance to identify and liaison with suppliers, vendors, facilities, venues and local government.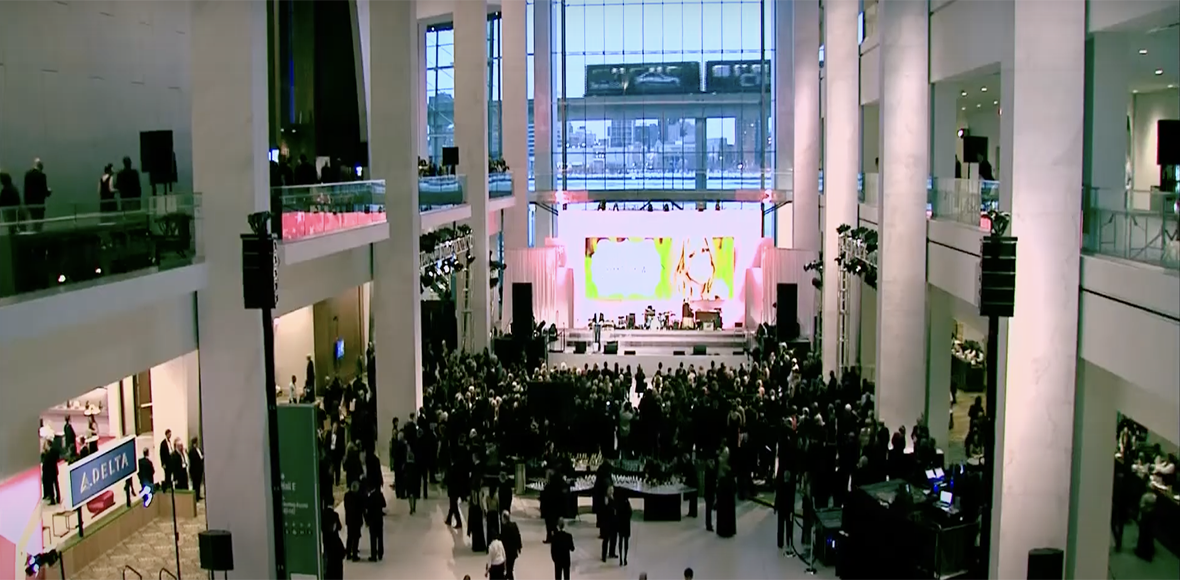 Leadership in Energy and Environmental Design (LEED) and the U.S. Green Building Council (USGBC)
After a rigorous application process, Huntington Place again achieved LEED Gold status in 2023 by recertifying under the LEED v4.1 O+M rating system, the most robust, flexible and transparent rating system to date. The convention center maintains its status as the largest LEED certified venue in Michigan.
Huntington Place was recognized by LEED for several best practices resulting in the 2023 certification. The project scored very high in Human Experience which includes an Indoor Air Quality Evaluation – and demonstrates the building has excellent ventilation and air quality. The venue's sustainability marketing efforts were also recognized with specific credit to the "Sustainability Lives Here" campaign designed by Detroit-based Lovio George Communications.
Huntington Place was originally LEED Gold certified in 2019. The center also received the international 2020 Leadership Award from the USGBC in recognition of leadership in driving the adoption of LEED across business portfolios, helping to advance Environmental, Social and Governance (ESG) performance, resilience planning and innovative waste management solutions. Currently, Huntington Place is the only convention center in the world to receive the award. Leadership Award recipients are a model for how LEED and other sustainability practices can be used to improve communities, support business, and contribute to a better future for all.