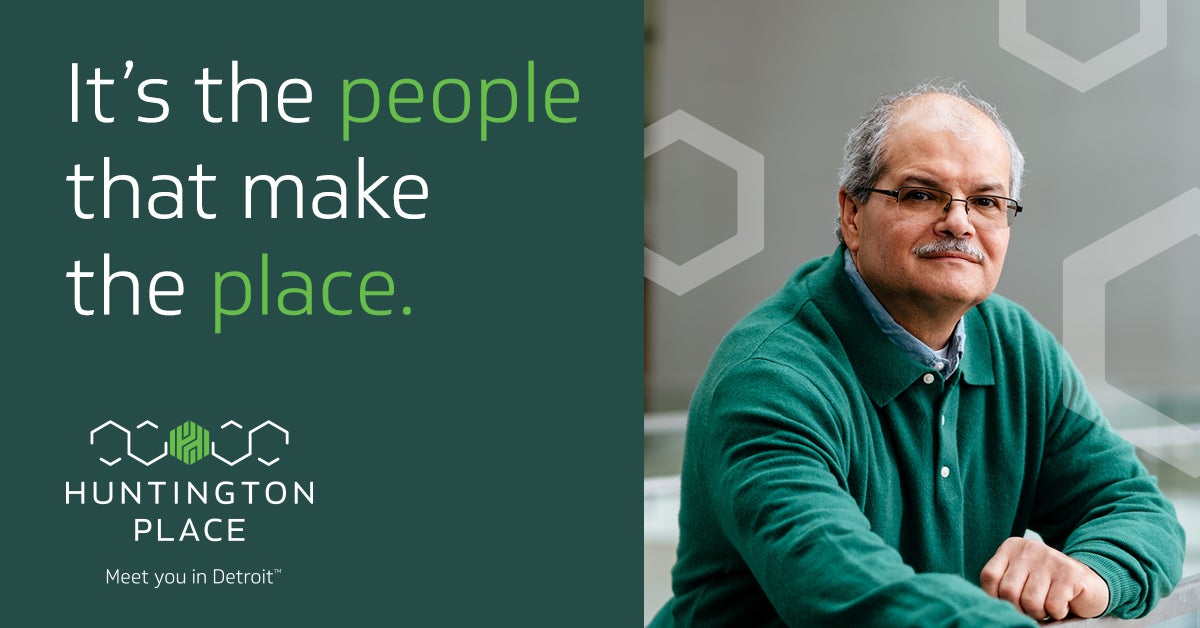 About Us
Mission
Our Goal is very simple, to be the best convention destination in the world.
Who we are
We are a team of passionate Detroiters who love to share our amazing city with everyone who visits. As hospitality ambassadors we are proud participants in the resurgence of Detroit. Our character is authentic and our service is genuine.
What we believe
We care greatly for our guests and for one another. Our diversity is our strength. We respect one another's talents by working together and we aspire to create lasting memories for every visitor to Detroit.
How we succeed
We succeed by creating an environment with trustworthy, enthusiastic and caring people who embrace change. We work together as one very determined team focused entirely on the success of every event. We are only satisfied if we have exceeded expectations.
Huntington Place History
Huntington Place is the 16th largest convention center in the United States. Built by the City of Detroit, it was originally opened in 1960 and named Cobo Hall in honor of former Detroit Mayor Albert E. Cobo (1950-1957).
In 2009 the Detroit Regional Convention Facility Authority (DRCFA) was established by the state of Michigan and leased the facility from the City of Detroit to own and operate it for 33 years. The five-member Authority Board consists of one representative from each of five government agencies – the City of Detroit, State of Michigan and the three metro-Detroit counties of Wayne, Oakland and Macomb.
In October 2010, the DRCFA awarded the contract for operations management of the facility to ASM Global, the world leader in venue management, marketing and development, who rebranded it Cobo Center, and revived the business to its current world class status.
In 2019, the DRCFA awarded venue naming rights to TCF Bank, and in 2021 TCF Bank merged with Huntington Bank. Today, Huntington Place hosts conferences, conventions and tradeshows bringing 1.5 million visitors a year from across the globe to Detroit.
Huntington Place is among 'Best in Class' of regionally and nationally competitive US convention centers in the following key categories:
Contiguous exhibition space (623,000 sq ft), 723,000 overall
225,000 square feet of breakout and meeting space including 100 meeting rooms
Lobby coffee/wine bar
Interior flex spaces for work/lounge/networking
Outdoor terraces for flex space use
Overhead rigging capacity on 10' grid
First for facility-wide, free, high-speed Wi-Fi coverage
An in-house broadcast studio with video editing, and facility-wide fiber network
An extensive digital signage communication system throughout the facility including two giant exterior signs that provide possible shared revenue opportunities for events
High-end food & beverage presentation capability
International access: US Port of Entry – Tunnel to Canada two blocks from the facility
Detroit riverfront location
Cross Canada direct highway connection to East Coast population centers (Western New York, New England)
Superior airlift capacity at award-winning Detroit Metro Airport (ranked #1 by many industry analysts)
Public transport access to downtown shopping attractions and hotels with on-site downtown People Mover station
Overall campus on the riverfront includes Hart Plaza, making an outdoor festival or special event space easily accessible
Since 2010 under new management by industry leaders ASM Global (overall operations) and Sedexo Live (Centerplate) catering service
Metro Detroit has experience successfully hosting major events including the Super Bowl, MLB All-Star Game and World Series, and the NCAA Final Four and Frozen Four! No other city in the US has done that