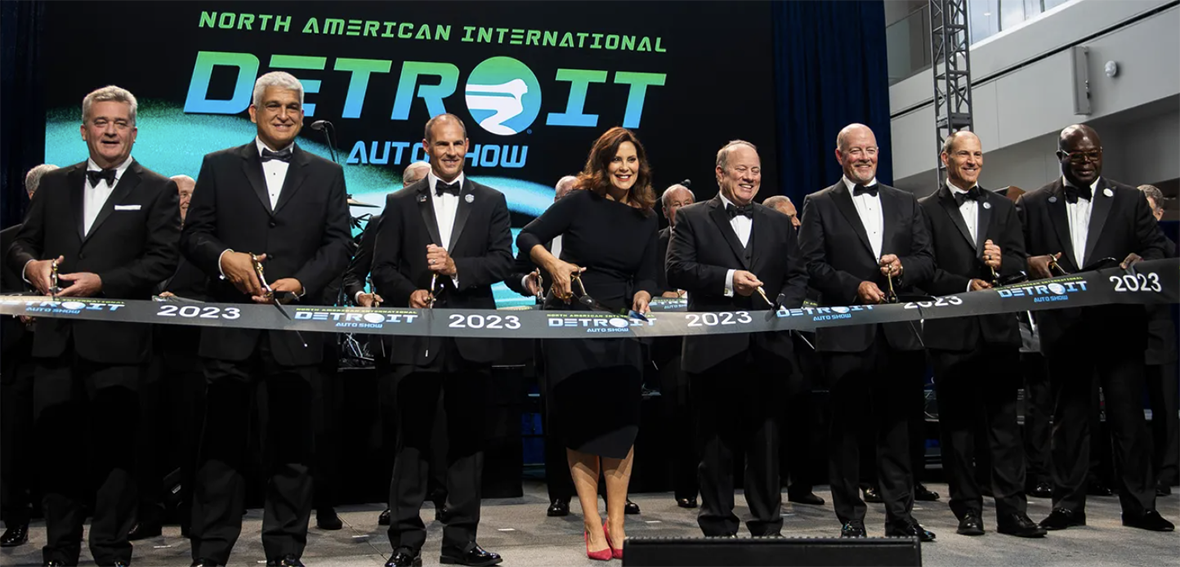 Detroiters Unite to Host the 2023 Detroit Auto Show in Transformational Year for the Auto Industry
At last year's Detroit Auto Show, President Joe Biden announced the release of funding to advance a nationwide Electric Vehicle (EV) future and nearly $6 billion to jump-start the White House's goal of having 50% of all new vehicle sales be electric by 2030 through the president's Investing in America Agenda.
The funding also supported the construction of country's first electric road system to charge electric vehicles in Detroit. Roadway along Michigan Avenue and a section of 14th Street will have underground e-coils that will charge an EV automatically on the infrastructure. Additionally, Michigan's Department of Labor is building the first autonomous car lane, planned to run from Michigan Avenue in front of the Ford's Michigan Central Depot, 40 miles to Ann Arbor.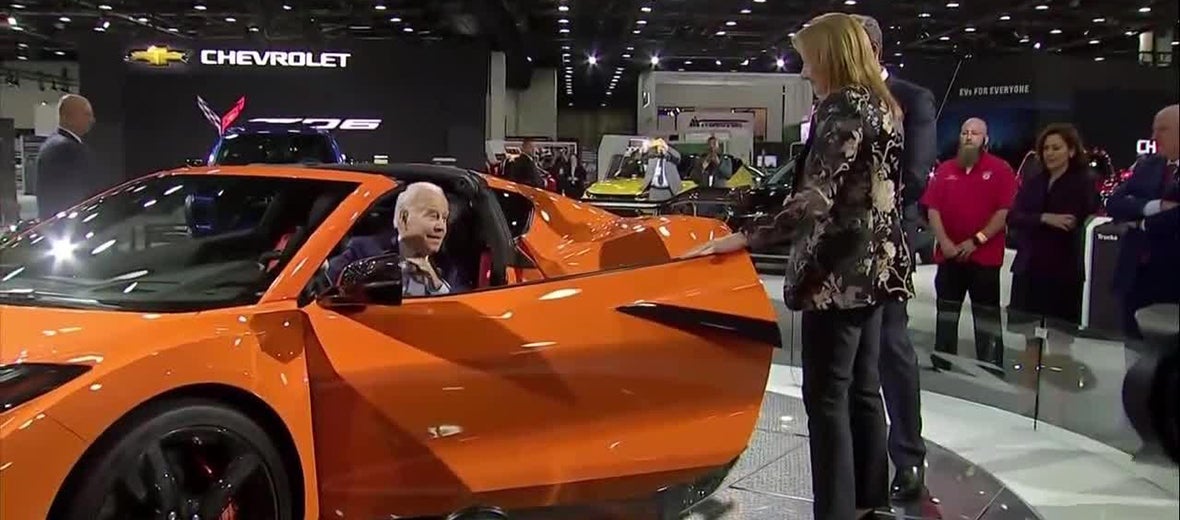 More Defining Moments for the Auto Industry
During this year's 2023 Detroit Auto Show in Huntington Place, hundreds of thousands of people came from far and wide to enjoy Michigan's fall weather and experience the auto industry's current transformation to EV technology firsthand, including arial cars now in development and 38 different vehicle brands.
International news unfolded live with a UAW demonstration that included Bernie Sanders speaking to a big crowd of UAW workers in front of the headquarters building next door to Huntington Place, where Detroiters were arriving for the Detroit Auto Show's Charity Preview, magnifying the importance of this year's event. But more than that, it illuminated the ability of the people of Detroit to come together and provide safe spaces for everyone to work together and support each other through this historical industry pivot.
Hundreds of red shirted union autoworkers marched across Washington Boulevard and through downtown Detroit streets. Law enforcement designated and directed routes that gave everyone safe passage, including next door, where at the same time, folks arrived to attend the Detroit Auto Show's annual black tie affair that raises money for local children's charities, including local children's hospitals, educational initiatives and family support programs. Since 1976 when the auto show's Charity Preview event began, $123 million has been raised to support Detroit area children.
"We are always excited to host the Detroit Auto Show as it speaks to the roots of our community as well as the future of where we are going as a city," said Karen Totaro, general manager Huntington Place/ASM Global. "EV technology is Detroit!"

Big Reveals Lead the Industry Transformation
The Ford Mustang GTD is in Ford's exhibit, and a private event the evening before the show opened included the Mustang GT3 race car scheduled to compete in the legendary 24 Hours of Le Mans endurance race in France next June. Ford is billing the show as a celebration of "Hometown heroes," with emphasis on the F-150, Ranger and Mustang all manufactured in Detroit.
The first all-wheel-drive Corvette, the E-ray, dazzled crowds with the quickest ever 0-60 mph acceleration: 2.5 seconds. The E-ray's total system power from its 6.2L V8 and electrically powered front axle is 655 horsepower. General Motors also featured three of the brand's vital upcoming EVs: the Silverado pickup, Blazer midsize SUV and Equinox compact SUV.
"This year's show represents the next step in its evolution and in the evolution of the industry itself," said Detroit Auto Show Chairman Thad Szott. "Automotive technology is changing so rapidly; how do we make people comfortable with it? We created a show that not only embraces and educates about this new technology but offers an immersion into it. And with twice the number of brands participating, there'll be no shortage of engaging with it."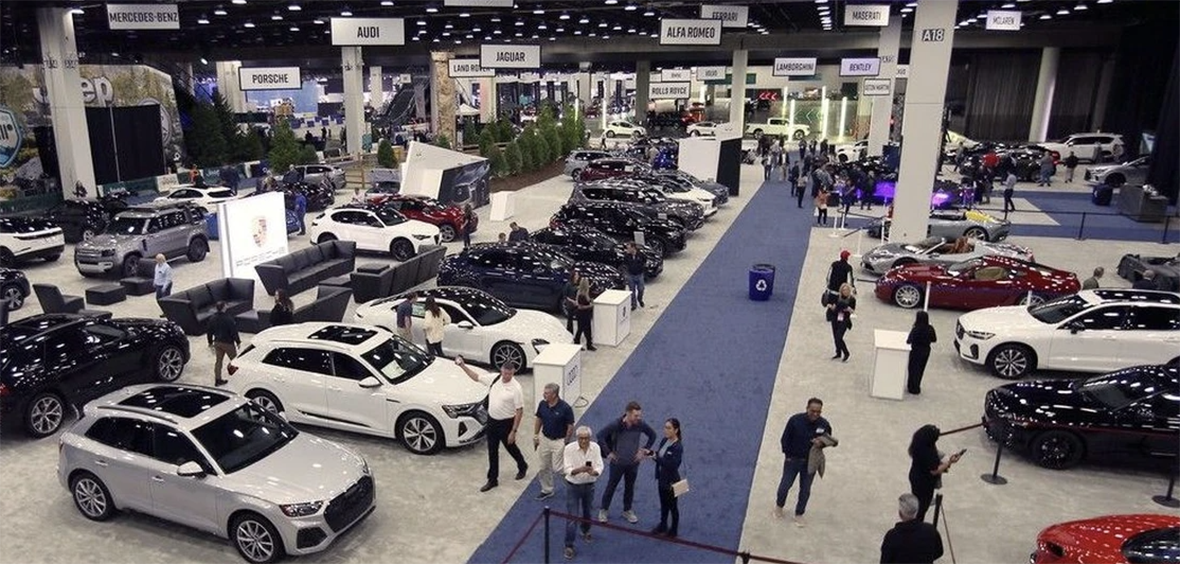 A number of automakers have large displays at the show with many of their models represented. In addition to those who debuted something new at the show, Buick, Chevrolet (check out the Silverado, Blazer and Equinox EVs, as well as the Corvette E-Ray), Lincoln with the new Nautilus, Toyota (get a look at the new Tacoma), Volkswagen, Honda, Kia, Hyundai, Mini, Volkswagen, Honda, Chrysler (the Airflow concept is there), Fiat, Ram and Dodge (see the Charger Daytona SRT concept) all have a sizable presence.
Luxury brands, Lexus, Alfa Romeo, BMW, Infiniti, Volvo, Jaguar, Land Rover, Porsche, Audi, Mercedes, Ferrari, Lamborghini, Aston Martin, McLaren, Rolls-Royce, Maserati and Bentley are also on display.
Flying cars returned with a model from Alef Aeronautics from California who described their vehicle as the "first and only drivable flying car with vertical takeoff and landing" that fits current road infrastructure. With eight propeller motors, the Alef Model A can drive on the street, take off vertically and fly above traffic, and yet it still fits in a regular-sized parking space and garage.
Israeli manufacturer AIR displayed its electrically powered AIR One two-seater and offered a virtual reality flight simulator for showgoers to experience the VTOL (vertical takeoff and landing) aircraft.

Experiential Activations Catalyze Believers
With a new Powering Michigan EV Experience indoor track sponsored by the International Brotherhood of Electrical Workers (IBEW) Local 58 and the National Electrical Contractors Association (NECA,) the EV experience was extended to auto show attendees. Taking up 20% of the floor's space, the EV track features over a dozen of the fastest electric cars on the planet to ride. The activation gave visitors the chance to immerse themselves in a wide range of EV vehicles from BMW, Cadillac, Chevrolet, GMC, Ford, Tesla and Volkswagen. Sitting alongside a professional driver, show-goers drove through a serpentine track which included an acceleration lane stretching more than 300 feet that sent tires screeching.
Ford and Jeep had indoor test tracks in Huntington Place, delivering their vehicles' off-road experiences. Vehicles from multiple brands offered test rides on the adjacent streets of the Detroit Grand Prix course in cars from Tesla, GMC, Cadillac (Lyriq), Ford (Mach-E), VW (ID.4) and more.
"The very nature of how people get from Point A to Point B is changing in ways more profound than at any time since the dawn of the Auto Industry," said Detroit Mayor Mike Duggan. "This year's Detroit Auto Show reflects this shift and makes it clear to the world Detroit continues to be at the forefront of mobility innovation."

Michigan Leading the Charge in Next-Generation Technology
The Detroit Michigan area is widely known as the hub for design and EV research and emerging technology. The Michigan Economic Development Corporation (MEDC) provided important funding to highlight dozens of tech companies and startups as part of the AutoMobili-D (AMD) technology showcase now in its eighth year on the main Detroit Auto Show floor during the show's Technology Days.
Bigger than ever, AMD occupied 85,000 sq. ft. on the main show floor in Hall D with the PlanetM exhibit. Nearly 150 startups filled AMD with the assistance of Plug & Play, a venture capital fund that specializes in startups and is the show's Official Partner for Startup Engagements.
MEDC's PlanetM set up several hundred matchmaking meetings between the principals of the dozens of startups attending AutoMobili-D and potential customers, including OEMs and Tier 1 suppliers in attendance.
"Michigan has been the center of the automotive world for a century, and we will define the future of mobility and electrification," said Michigan Governor Gretchen Whitmer. "Our economic development efforts, innovative talent programs and strong workforce are helping us bring home thousands of good-paying manufacturing jobs and supply chains of electric vehicles, batteries, chips and other emerging mobility technology. Together, we will continue leading and building the future."
In addition to the startups, 50+ technology displays were featured, and Magna sponsored of some of the world's leading universities in a designated R&D section for universities in this area, including ACE-Automotive Center of Excellence, CHARGE Lab – University of Windsor, Kettering University, Michigan State University, Michigan Technological University, Michigan's University Research Corridor, The Ohio State University Center for Automotive Research, University of Michigan, University of Michigan-Dearborn and Wayne State University, Washtenaw Community College and Eastern Michigan University/GameAbove College of Engineering & Technology.
Emphasizing the exciting research and start up work happening in the Detroit area, PlanetM held its annual awards to showcase futuristic mobility opportunities from around the world. A panel of 22 judges from automakers, universities, the Michigan Transportation Department and tier-one manufacturers selected the best projects in autonomous driving, mobility services, electric mobility, connected cars and smart cities. The awards support mobility and electrification companies who anticipate long-term growth in Michigan and seek to play a meaningful role in the state's mobility ecosystem.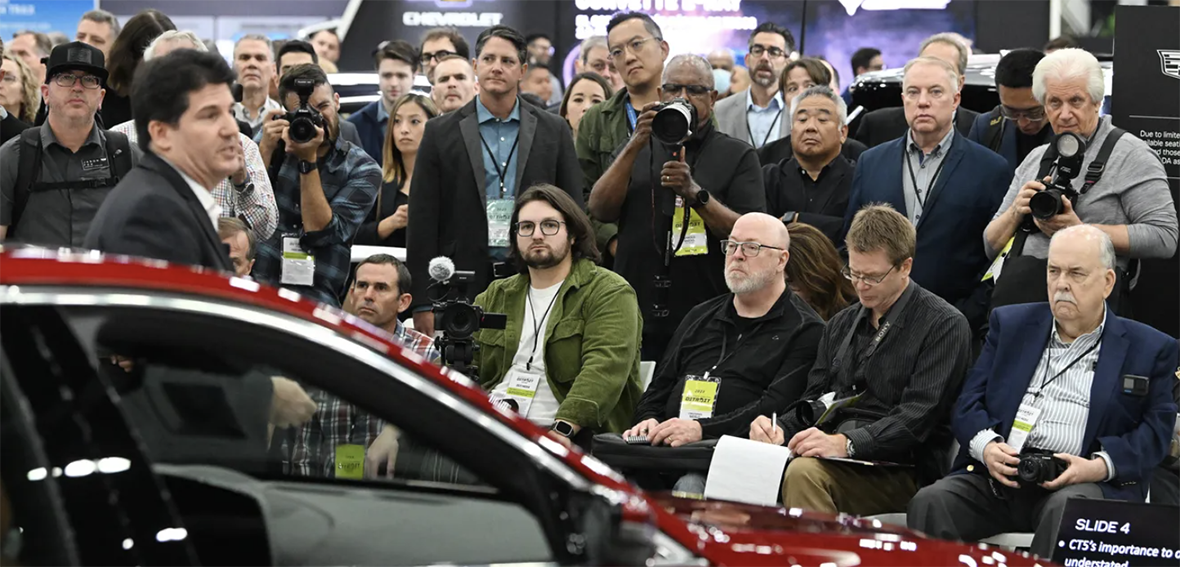 Detroit as a National Music Center
Famous for the Motown sound, Detroit is also rich in jazz, blues, gospel, country, techno and rock, and the Detroit Auto Show did not disappoint with a blast of concerts including Jennifer Hudson's performance in Huntington Place on the show floor during Charity Preview. Hudson is intimately acquainted with the Queen of Soul's repertoire as she played Aretha Franklin in the 2021 film "Respect" and she dazzled the audience with renditions of "(You Make Me Feel Like) "A Natural Woman," "Respect" and "Ain't No Way."
Reggae rapper Shaggy performed in Huntington Place's three-story glass atrium earlier at the Charity Preview to a packed audience. And country star Darius Rucker performed the evening before the official Detroit Auto Show opening Tuesday, at an outdoor concert after Ford revealed its new F-150 model.
The Detroit Youth Choir opened the evening at the Charity Preview ribbon cutting with a medley of Detroit favorites and later sang along as Jennifer Hudson moved into the crowd to be among them at a very moving point in her concert.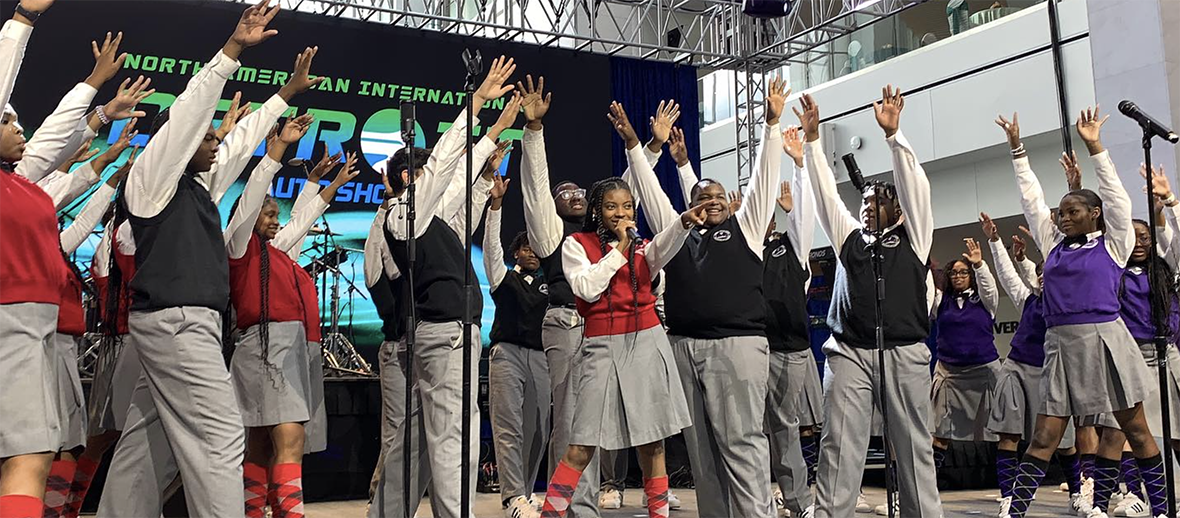 The Wrap Up
Karen Totaro wrapped it all up for us this way: "As we prepare to pack up the 2023 Auto Show I can't help but be excited for its future. The floor looked absolutely beautiful this year, there was an abundance of brands to sit in or test drive and multiple action stations that took attendees on various adventure tracks. Detroit's Auto Show is the FUTURE between EV's, flying mobility and all the next generation technology that was showcased with more to come. Hope to see everyone back at Huntington Place in 2024!"