Unshattered City by Detroit Artist Darcel Deneau Is Installed in TCF Center
Last month the Detroit Regional Convention Facility Authority's (DRCFA) Art Foundation installed "Un-shattered City" a glass mosaic by Detroit artist Darcel Deneau.
"Using glass and objects I find in and around the city, I build images of Detroit that parallel the current growth of the city," said Deneau. "Utilizing the detritus of the city, I find gratification in creating something beautiful."
Deneau's work joins an art collection at TCF Center that includes work by internationally respected artists such as Hubert Massey, Robert Sestok, Tyree Guyton, Gilda Snowden, Ed Hamilton and Carl Milles, among others.
"There is a striking similarity in the transformation of Detroit and the approach to my process," Deueau added. "Un-shattered City was the first piece made for a body of work that reflects the change, hope, hard work and multitudes that reflect the rejuvenation of our city."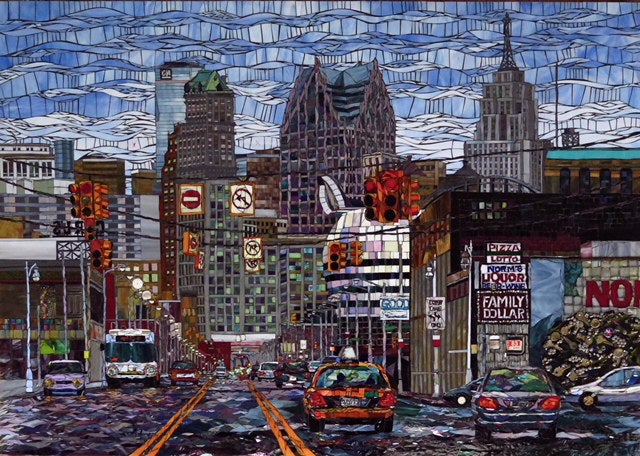 Adversity illuminated the importance of art for Darcel Deneau and without hesitation she redirected her life's journey in pursuit of painting. In 2002, she earned a BFA from the College for Creative Studies. A native Detroiter, Deneau has been intrigued with painting images of the city for several years. In the last few years Darcel has transitioned her Detroit Landscapes into a new painting medium by painting with tiny bits of glass to create mosaic landscapes. The response from the art community has been overwhelmingly positive.
Working daily in her studio, Deneau is actively involved in the Detroit art community. She has served as chairman of the board for the Detroit Artists Market, (DAM), and since has been elected as a member of the honorary board. Additionally, she has been invited to be a member of the alumni council for the College for Creative Studies, (CCS). Since graduating sixteen years ago she has produced an impressive body of work, exhibited in numerous juried and curated exhibitions locally and nationally,
including 11 solo exhibitions.
Deneau has earned a notable reputation for her Detroit landscapes and has been pursued for many commissions, including the 28th Detroit International Jazz Festival poster artwork, a large-scale Detroit landscape for the Hudson-Weber Foundation and a 29' x 7' mural for Garage Restaurant and Fuel Bar, in Northville, Michigan.