TCF Center Outlines Its Upcoming Reopen Plan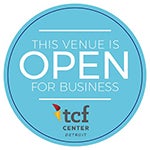 As we prepare to reopen for business in TCF Center, we wanted you to see what steps we are taking to create a safe, welcoming and friendly ecosystem for you and your guests. It is a plan centered around you.
The plan to reopen the ASM Global managed TCF Center includes the steps that are being taken to ensure that events are safe and secure amid the current COVID-19 crisis. The Reopening Plan includes enhanced cleaning protocols, new ways of providing food service, understanding the customer journey to promote physical distancing, safely returning employees to work, embracing new forms of technology to enhance the experience, and where customers can go to find information on the new TCF Center business standards.
New initiatives focused on environmental hygiene are outlined in the recently published ASM Global's VenueSheild® standards, the GBAC STAR® Facility Accreditation program, and various federal, state and local guidelines that TCF Center has embraced since the outbreak of COVID-19.
New food service standards incorporated by Centerplate, TCF Center's exclusive catering partner. ServSafe® protocol and amended food delivery processes are outlined, along with new menu options and serving suggestions that accomodate physical distancing.
TCF Center's first-tier Technology Services offering has expanded to provide safety and security for all attendees. New products such as WiFi tracking maps and hybrid event packages provide options for both on-site and online attendance. Several tech products that the TCF Center team is monitoring for possible future application are also included.
Given the current uncertain and rapidly changing event industry environment, the TCF Center team is working hard to get ready for your return. Please reach out and tell us what you need, your hopes for the future and your concerns. Tell us the requirements for your first event of the new era. Making your event the most important event of the year is our vision. Delivering outstanding event experiences is our mission. Detroit and TCF Center will continue to rise, grounded in caring, reaching, and just being green - to better serve our customers.
Click HERE to download your copy of the Reopening Plan.