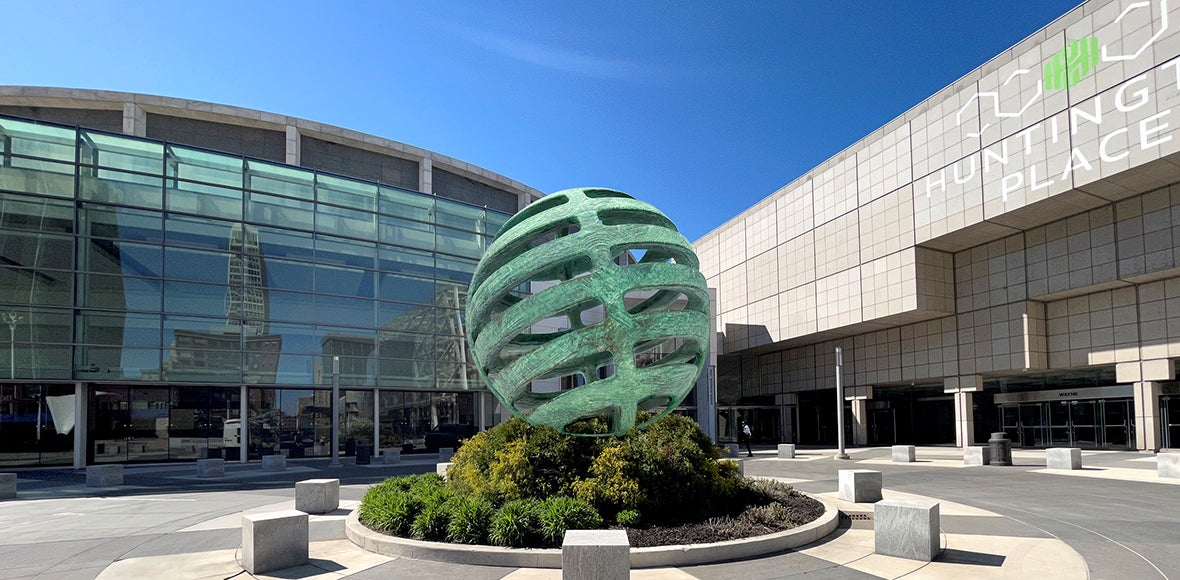 New Public Art Outdoor Sculpture for Huntington Place Expected in Late Summer
Sometime in late summer 2022 Huntington Place in Detroit will complete the installation of a stunning new, 15-foot diameter bronze public art outdoor sculpture. Detroit joins major convention centers throughout the country featuring public art including cities such as San Diego, Chicago, Nashville, Pittsburgh, and Washington D.C.
"This spectacular sculpture will be placed in the position of the original French settlement of Detroit in 1701, the same land where Huntington Place now resides." said Totaro. "Antoine de la Mothe Cadillac, a French officer, established the original citadel for his settlement on the same bank of the mighty Detroit River that our visitors enjoy today. It is so meaningful to encapsulate part of the history of this city we love into a beautiful piece of art that will last generations."
Focused on Huntington Place's status as a global hub of activity and Detroit history, "Floating Citadel" is inspired by everything from ancient native shorelines and French voyageurs, to the city's current status as an artistic, creative and entrepreneurial beacon. It is influenced by the Savoyard Creek and the original Detroit River edge, which ran within steps of this sculpture's site. The sculpture takes its name from the original walled village boundaries and its defensive core, "the Citadel," which was located where this sculpture will stand.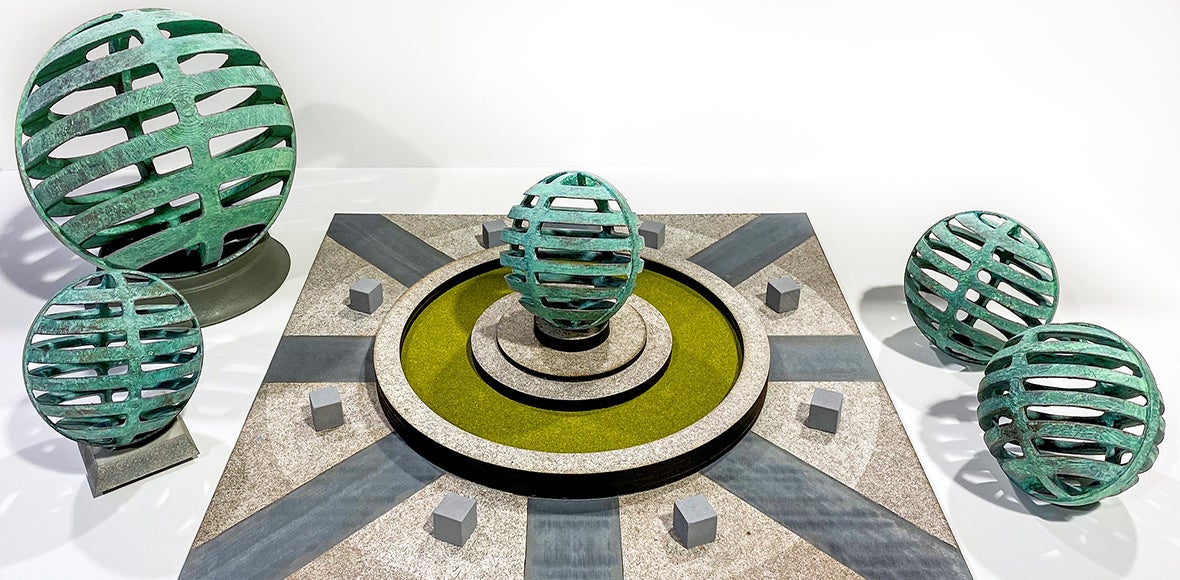 Hocking's "Floating Citadel" is joining the public art collection at Huntington Place that includes work by internationally respected artists such as Hubert Massey, Robert Sestok, William Bevan, and Gilda Snowden, among others.
"We are thrilled to reveal Scott Hocking as the artist for this stunning civic sculpture, which will welcome our community and visitors to the world-class Huntington Place convention center," said Lisa Canada, Detroit Regional Convention Facility Authority (DRCFA) Board Chair and DRCFA Art Foundation Chair. "The sculpture is a beautiful piece which will join our other significant artworks at the convention center as we continue to expand our free public art collection."
The bronze sculpture harkens back to thousands of years of mining in Michigan's Upper Peninsula, and the copper and iron ore that traveled down the Great Lakes to Detroit, creating an industrial giant and auto-industry capital for over 100 years. All of these highlights through history occurred right where this sculpture will be installed, at the corner of Washington and Jefferson, and the work will incorporate all of these qualities, to create a monument that speaks to Detroit's past, present, and future.
"From our first meetings just before the Covid quarantine, to applying the final patina to the bronze, I'm excited to install this work - it's been a long time coming," said Hocking. "The whole team at Huntington Place has been great, and I was thrilled that my proposal was chosen. To have a large-scale sculpture in Detroit's civic center, joining the likes of Noguchi, Graham, Fredericks, Barr and De Giusti - and to have it located in front of the place that I've gone to since I was just a kid at the Auto Show - it's a real honor."
Hocking's artwork has been exhibited internationally, including the Van Abbemuseum, the Kunst-Werke Institute, Kunsthalle Wien, the Gare St Sauveur of Lille, Crystal Bridges Museum of American Art, ASU Art Museum, Museum of Contemporary Art Chicago, Smart Museum, School of the Art Institute Chicago, Contemporary Art Museum St. Louis, PAFA Museum, the Mattress Factory Art Museum, Detroit Institute of Arts, Cranbrook Art Museum, MOCAD, Broad Museum at MSU, and the University of Michigan. He has received multiple awards, including a Kresge Artist Fellowship, a Knight Foundation Arts Challenge Grant, and an Efroymson Contemporary Arts Fellowship. His work is represented locally by David Klein Gallery, Detroit. More information can be found here.