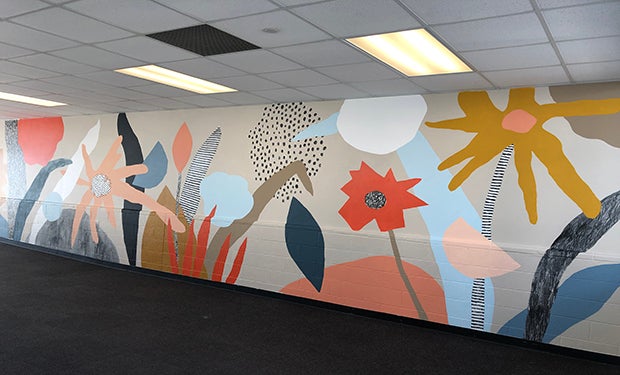 Detroit artist's nature mural greets Cobo visitors
Last month, local Detroit artist Ellen Rutt put the finishing touches on a nature mural in Cobo Center entitled "Ignis Planta and Other Rare Flowers." It can be seen by visitors entering the facility from the southwest rooftop parking lot entrance.
The giant mural, 9-feet by 42-feet, greets people as they approach the observation area for the Living Green Roof and pass by to the elevators that give them access to the atrium from the parking lot.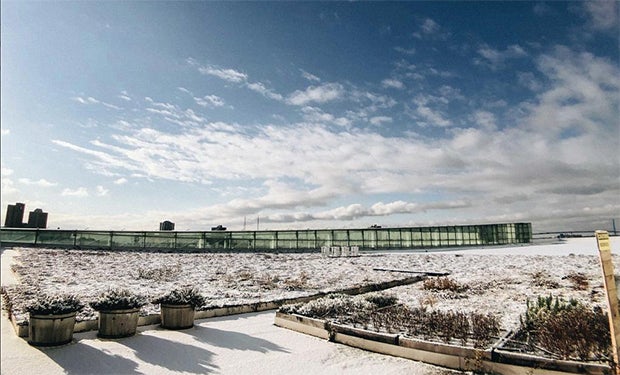 "The mural gives a splash of color to the winter scene that can be seen through the floor-to-ceiling glass window that overlooks the Living Green Roof," said Claude Molinari, general manager of Cobo Center. "It is a spectacular view in any season, and the mural adds a new dimension to it."
Cobo Center also plans to complete an green roof observation area in the same space in 2019. It includes information signage about the Living Green Roof, its contents and benefits to the ecosystem of the metro Detroit area.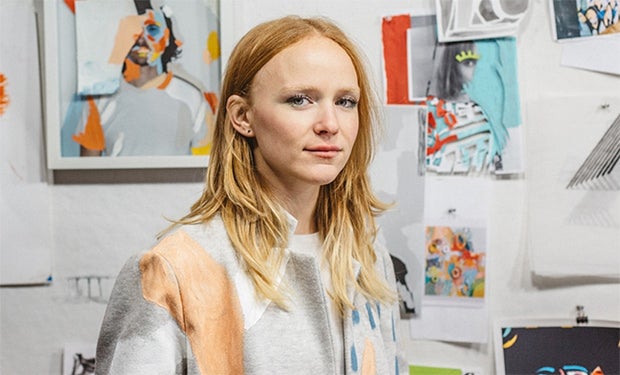 Detroit-based artist, Ellen Rutt, makes bold, mixed-media paintings, site-specific installations, murals and wearables. Her abstract vocabulary of layered shapes and primary colors is applied to a variety of media to facilitate a conversation between materials and movement, places and process.

Rutt graduated with a BFA from the University of Michigan School of Art & Design and has shown work at MOCAD, The Detroit Institute of Art, Inner State Gallery and painted murals in Detroit, New York, Chicago, Canada and France, among others.
"I'm acknowledging my own contradictions and our collective moral flexibility - how we are simultaneously celebrating the sacredness of the natural world, while also engaging in practices that knowingly or unknowingly contribute to its destruction." Rutt said. "We are balanced on a continuum between understanding the infinite nature of existence and participating in the mundane routine of everyday life."
According to Rutt, the mural in Cobo Center "depicts a collection of invented plants with magic healing properties. They bring health and good fortune to Detroit residents during this time of growth in the city's history, and represent the abundance that is available here for visitors and natives alike."