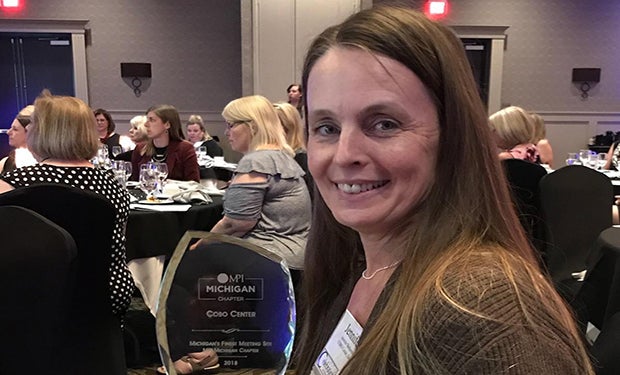 Michigan MPI Chapter awards Cobo Center their Michigan's Finest Meeting Site award
Each year, the Michigan Chapter of Meeting Planners International (MMPI) holds the Black White & Bling Awards Gala to give recognition to outstanding members and suppliers.

This year Cobo Center was awarded the MMPI Silver Platter Award for being voted the best chapter meeting venue of 2018. Cobo was also presented the 2018 Michigan's Finest Meeting Site Award as voted by chapter members. The real surprise of the evening was the 2018 President's Award that was given to Cobo Center Sales Manager Jennifer Berkemeier. The sweep came as a real surprise to Jen, and lent a tremendous amount of pride and joy to the evening.
Jen has been a member of the Michigan chapter of MPI since 2008. From 2009 to 2011 she served as the Director of Membership, and since 2017 she has been the Vice President of Communications on the MPI board. In 2011, Jen was awarded the Outstanding Volunteer and Leader of the Year. The Michigan chapter has 200 members.
Meeting Professionals International (MPI) is the largest meeting and event industry association worldwide, and is committed to providing the best education, experiences and relationships to help produce the best meetings and events. With the idea that live events connect people, inspire ideas and propel society forward, MPI's mission is to provide MPI members, chapters and the global meeting and event community with innovative and relevant education, networking opportunities and business exchanges, and to act as a prominent voice for the promotion and growth of the industry.