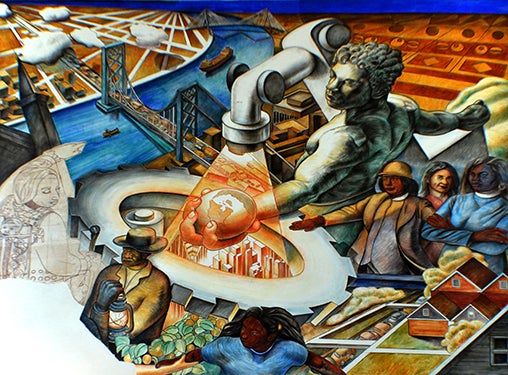 Majestic fresco in Cobo Center is unveiled
Throughout the summer, the public watched renowned Detroit artist, Hubert Massey, paint a permanent fresco masterpiece at the riverside entrance of the Grand Riverview Ballroom within Cobo Center. The piece was unveiled to the public on Sept. 7 and Massey was on-hand to discuss his 30-foot-by-30-foot legacy piece.
"The voice of the Detroit community has been a part of this project from the very beginning and it is important to embrace their voice and spirit with continued involvement as we move into the next phase," said Massey. "The arts are at the heart of everything Detroit, and it's great to have Cobo Center make it an even bigger part for visitors from all over the world to see."
Hubert Massey is a Kresge Fine Arts Fellow and has received an honorary doctorate from his alma mater, Grand Valley State University. He learned the technique of true fresco painting by two of the assistants who worked directly with Diego Rivera while creating the Detroit Industry Frescos at the Detroit Institute of Arts.
An installation of several signs near the completed fresco is planned to inform visitors of the artist's biography, donors for the project and an explanation of the elements of the piece.
"We are thrilled for the installment of this historic fresco painting that authentically celebrates the Detroit community's rich past and promising future," said Lisa Canada, Detroit Regional Convention Facility Authority vice chair and Cobo-Art chair. "We hope to share Detroit's culture, history and accomplishments with the local community and the nearly 1.4 million visitors that come to Cobo Center annually."