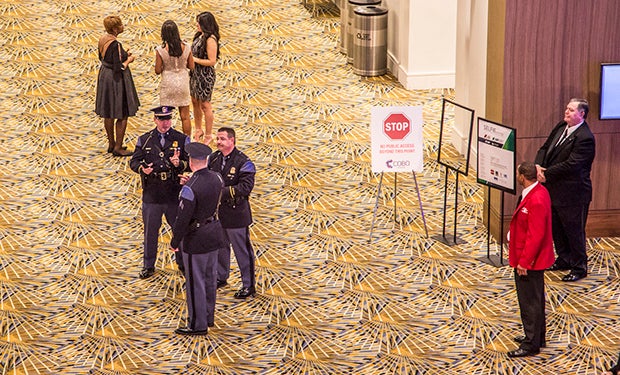 Keeping the Event Ecosystem Secure in Cobo Center
We live in a time of high alert, and Cobo Center understands that all visitors need the right balance of ensuring public safety and supporting an atmosphere of hospitality.
A united effort to mitigate risks through preparedness with safety procedures is put in place for every event in Cobo Center to provide protection and peace of mind to all visitors. Pre-event planning is essential to clearly understand a show's need and put Cobo's safety and security protocol in place accordingly. Pre-event planning can ensure:
Inter-agency task force communication
Memorandums of agreement
Community policing strategy
Integrated radio command
Crisis communication plan
Contingency plans
Dignitary routes
Crowd control plans
Detroit Police (off duty) secondary deployment patrols
Canine unit security sweeps​​
Metal detectors
The task force that Cobo Center customers can tap into is comprised of representatives from agencies in Metro Detroit, the state of Michigan and the federal government. This task force includes the Detroit Police Department, Detroit Project Lighthouse, the Wayne County Police, Oakland County Police, Macomb County police, Michigan State Police, FBI, U.S. Customs and Border Patrol, Homeland Security, U.S. Coast Guard and other interested parties. By leveraging technology resources, information and personnel records, a cooperative surveillance effort exists across downtown Detroit 24/7/365 during events in Cobo Center.