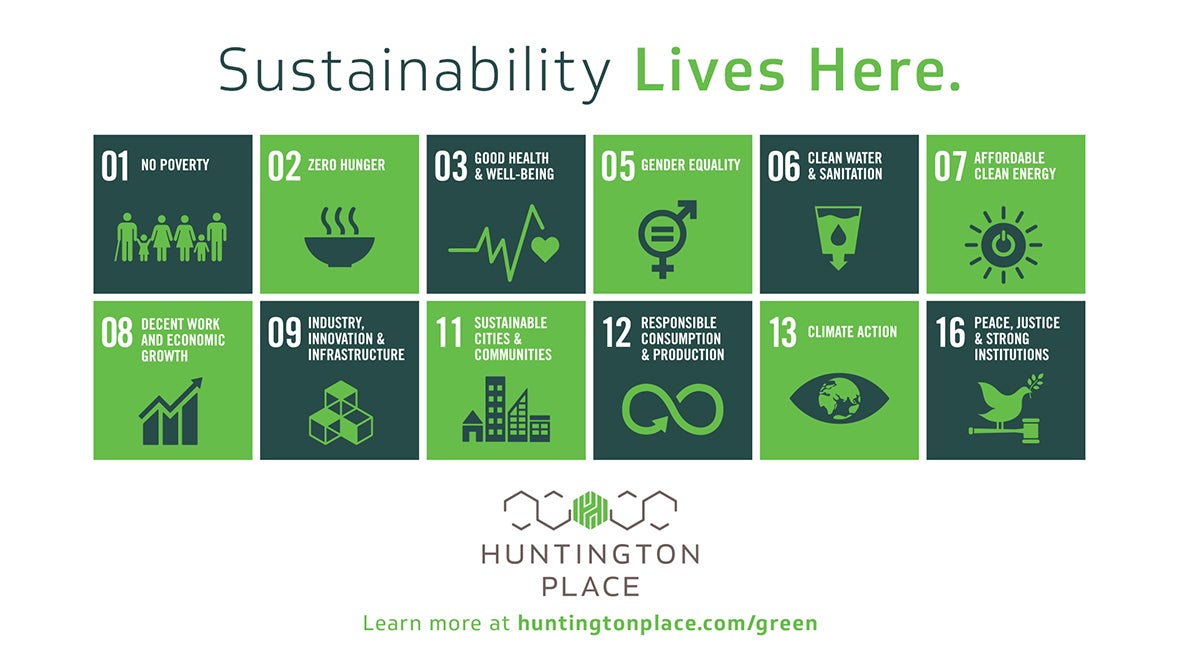 Join us in Huntington Place for the USGBC LEED Project Tour
Join Huntington Place (an ASM Global managed venue) and the USGBC Detroit Region on August 18 as we provide the community with an opportunity to attend an in-person tour of the largest LEED certified building in the state of Michigan. Huntington Place will share their experience pursuing both their initial certification and their recertification and earning LEED Gold. Attendees will learn about the green initiatives they have incorporated into the existing building as well as lessons learned. This event will provide an educational opportunity for our community and members to see a successfully completed LEED recertified facility.
Sustainability in Huntington Place
Green Events in Huntington Place
The Tour
HOST:
Lana Crouse, U.S. Green Buildings Council
PRESENTERS:
Becky Bixby, Huntington Place Assistant General Manager
Al Vasquez, Huntington Place Engineering & Facility Services Director
Cedric Turnbore, Huntington Place Director of Operations
LEARNING OBJECTIVES:
• Define Huntington Place's commitment to environmental stewardship and how they incorporate that philosophy into their events.
• Discuss the unique water efficiency strategies used to achieve EA credits through the LEED v4.1 O+M Existing Building rating system.
• Identify how Huntington Place's recycling efforts contributed to achieving MR credits through the LEED v4.1 O+M Existing Building rating system.
• Discuss actual building performance data used for EA credits in the LEED v4.1 O+M Existing Building rating system.
* TOUR STOPS
Exhibit Hall & Dock
Lighting and Electrical Consumption, Energy Conservation Best Practices
Recycling Cages and Compact Area
Engineering & Facility Services Areas
Monitoring System, Chillers and Water Usage, Condensate Recovery System
Environmental Services
Recycling Separation Center
Ballroom Kitchen Dock
Composting Best Practices
This session will be eligible for both GBCI and AIA for 1.5 CE Hours and is LEED Specific: O+M and Green Associate.
Register HERE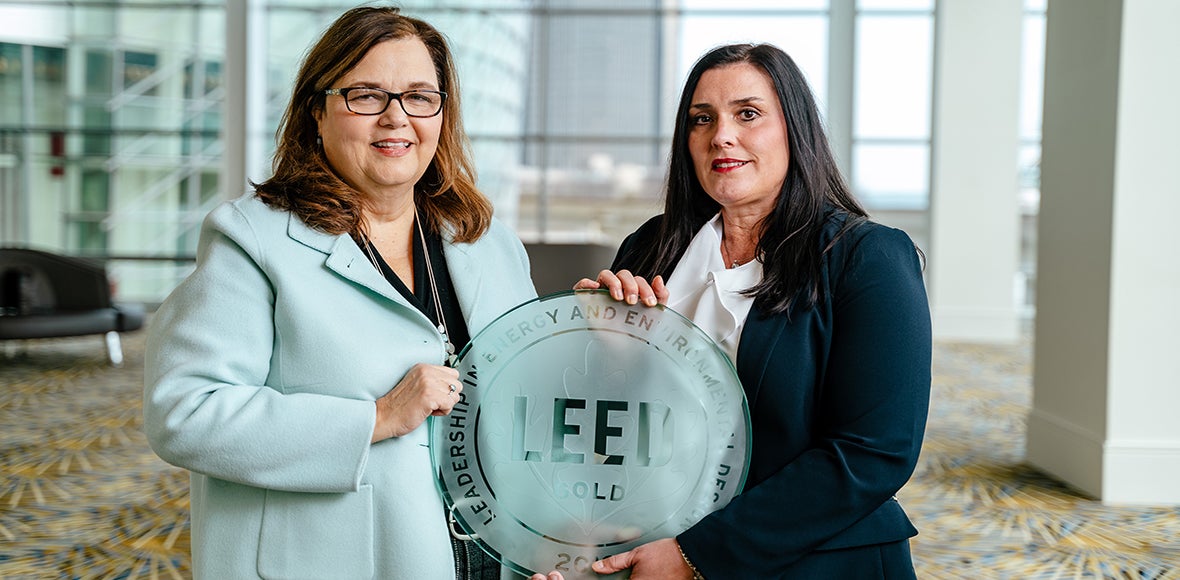 Case Study: Huntington Place, Detroit Convention Center
In October 2019, Huntington Place was certified LEED Gold and became the first convention center in the world to certify under LEED v4.1 Operations and Maintenance (O+M) and the largest LEED certified facility in the state of Michigan.
Convention centers are a large building or complex of many buildings that are designed to host major conventions, trade shows, meetings and special events. They are typically located in urban, walkable areas and are capable of hosting thousands of attendees. Convention centers have a variety of unique features such as large-scale commercial kitchens, extensive freight and shipping operations facilities, limited full-time staff and a higher number of visitors.
Convention centers play an influential role in the green building movement due to their size, the number of people they host every year, and the economic activity they help generate. Today's leading convention centers are committed to reducing their environmental impact, while also providing conference and event guests with positive experiences. They recognize the opportunity that green building presents—that environmentally responsible buildings help reduce the collective carbon footprint, make business sense and can play a critical role in their commitment to sustainable policies and operations. In addition to pursuing LEED certification, more and more conference and event organizers require proof of sustainable practices and commitments in their request for proposals. Sustainability is no longer a consideration and rather an expectation in the market, especially in competitive regions.
Huntington Place is the 16th largest convention center in the United States and commits to operations that reduce their environmental impact, focuses on conserving resources, and utilizes products, technologies, and methods that continually improve these efforts.
Huntington Place is the proud recipient of the 2020 USGBC Leadership Award for Building Performance presented at the annual Greenbuild International Conference, making it the only convention center in the history of the award to receive it.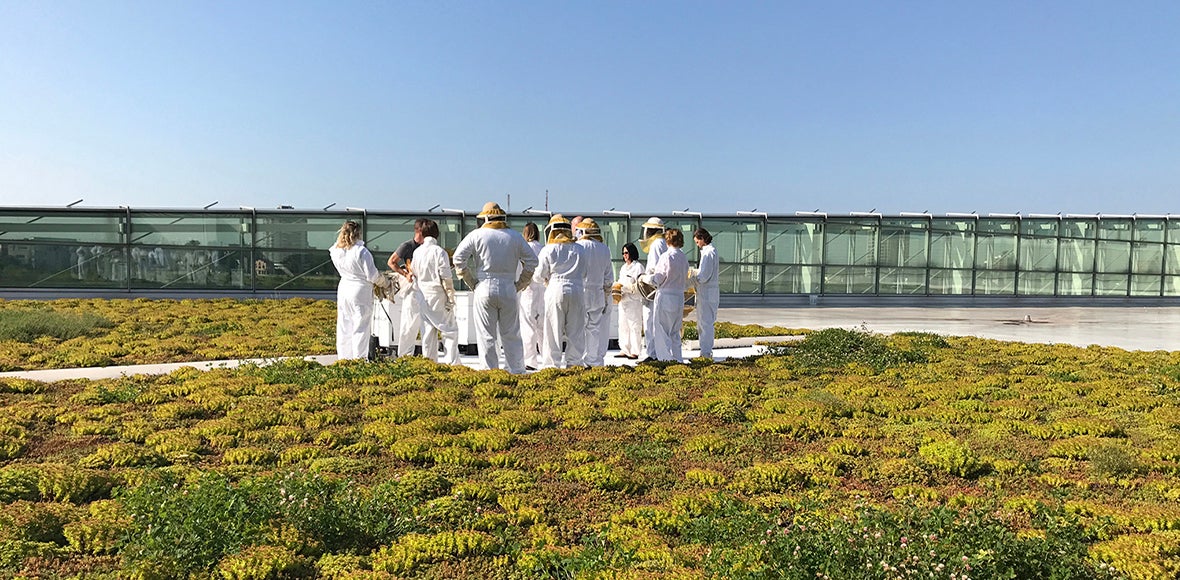 LEED v4.1 Operations and Maintenance (O+M)
LEED v4.1 is the next generation standard for green building design, construction, operations and performance. Learn more about LEED v4.1 for existing buildings and interiors.
A shift from documents for documentation to data for documentation focuses on tracking performance in energy, water, waste, transportation, indoor air quality, toxin free environment and occupant satisfaction.

Data driven recertification guidance that aligns with certification requirements helps projects get certified and stay certified.

LEED points are based on performance (score).

For the first time. LEED applies to existing buildings and interior spaces.
Huntington Place 2023 Recertification Highlights
Huntington Place was recognized by LEED for several best practices resulting in the certification:
The project scored very high in Human Experience which includes an Indoor Air Quality Evaluation – and demonstrates the building has excellent ventilation and air quality.
High efficiency of having 1200 parking spaces on the roof top was noted, along with the reflective surfaces of the roof and the venue's Living Green Roof.
Efficiency of water use was highly rated.
The venue's sustainability marketing efforts were also highly rated, with specific credit to the "Sustainability Lives Here" campaign designed by Detroit-based Lovio George Communications.
Environmental Policy
Huntington Place and ASM Global commit to operations that reduce their environmental impact, focus on conserving resources, and utilizing products, technologies, and methods that continually improve in these efforts. Their sustainable initiatives focus in the areas of:
Waste Reduction and Diversion

Energy Conservation

Water Quality and Consumption

Air Quality

Environmental Procurement Policy

Community

Human Resources Policy and Staff Training

Waste Management: Reduction & Diversion
Huntington Place's comprehensive waste management program focuses on identifying, reducing and diverting the various waste streams created by venue operations, attendees and clients. Huntington Place also works to reduce the amount of waste created, and diverts waste from landfills by means of reuse, re-purposing, composting and recycling items.
Huntington Place has an aggressive waste diversion program, including donations, recycling and compost. Each year, the Green Committee sets goals for waste diversion and works hard to achieve them. They also participate in local and national sustainability groups to exchange best practices to plan program improvements.
About Huntington Place
The Huntington Place Green Committee was formed in 2011 to organize facility operations for venue certifications and sustainability and meets monthly. It has members from every department and vendor company in the facility. Each member is a strong advocate for green operations, understands and respects the mission statement, goals and objectives and helps procure the resources required for success of the initiative.
ASM Global leads in venue sustainability
ASM Global and Huntington Place have pledged to the following environmental goals:
- Reduce energy consumption by 25% by 2030
- 20% of all energy consumed through renewable energy sources in 2025
- Carbon Neutral by 2050 (milestone 25% carbon reduction by 2030, 50% carbon reduction by 2040)
- Divert 50% of waste overall by 2025
- Eliminate single use plastic in front of house by 2027
- Reduce Water Consumption by 25% by 2030
- Award 50% of our reportable spend to suppliers adhering to our Environmental Purchasing Policy by 2030
Huntington Place Is The Proud Recipient Of The Following Community Based Awards for Sustainability Leadership:
U. S. Green Buildings Council (USGBC) Energy Reduction Achievement in a Venue Award

Crain's Detroit 2022 Notable Leader in Sustainability recognition

USGBC Community Safe Haven Award

USGBC Leadership Award for Building Performance

USGBC Detroit Region Outstanding Sustainable Design Award

EcoWorks Sustainable Communities Champion Award

Keep Michigan Beautiful President's Plaque

Detroit Free Press Green Leader Award

Detroit Green Task Force Earth Day Business Award