Huntington Place Drive Through Vaccination Center Closes After a Two-Year Run
In December 2020, Detroit Mayor Mike Duggan announced his plans to establish the city's largest vaccination center in Huntington Place on CBS's Sunday news show Face the Nation. This drive-thru vaccine administration in the venue's Atwater Garage began distributing 4700 doses a day to eligible Detroit residents and continued for a two-year run, closing in mid-February 2022.
The city's largest vaccination site administered cost-free vaccines and boosters to residents of Detroit and suburbs. Eligibility requirements were originally established according to patient medical risk and then the program opened to everyone. By calling a City of Detroit call-in hotline, vaccine recipients scheduled an appointment to drive through the site and receive the jab while sitting in their car. People driving the car who did not meet residential requirements were also allowed to be vaccinated during the same appointment.
The drive through vaccination site administered ten thousand COVID-19 tests in 2020 and 269 thousand vaccines and boosters in 2021 and 2022 before closing, according to the City of Detroit.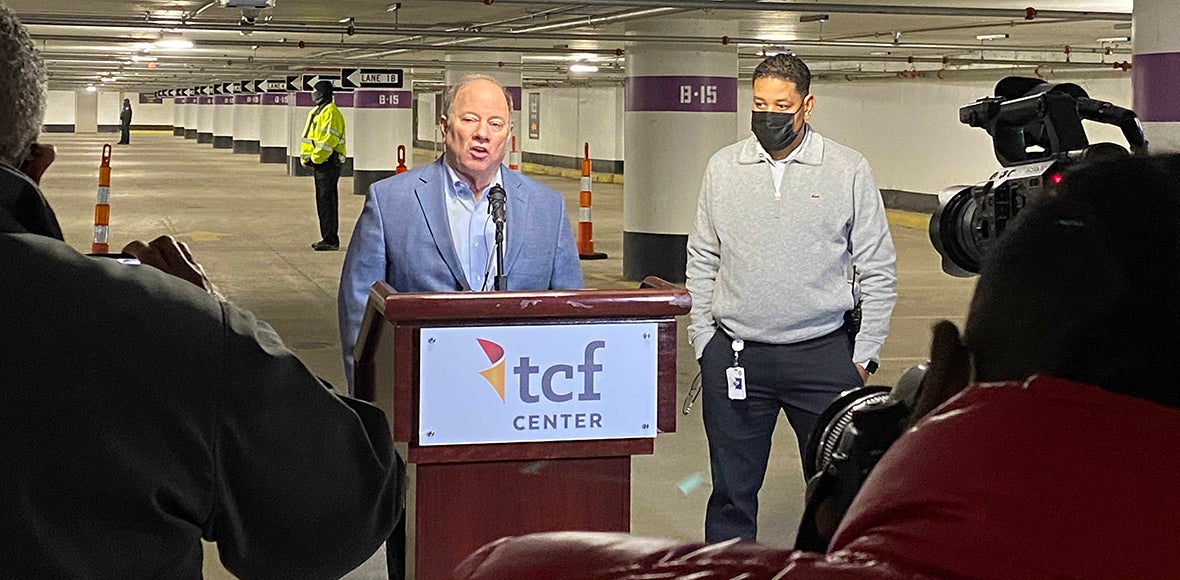 Environmental air quality in the garage was monitored in real time by Al Vasquez, director of engineering and his team, for CO levels in the garage with 48 sensor readings that signaled the team to turn on the required sequence of 17 variable-speed exhaust fans. A twelve-foot by ten-foot video monitor with mapped locations of all CO sensors and exhaust fans in the engineering control room was watched by team members.

The Occupational Safety and Health Administration (OSHA) rating from acceptable CO levels in a garage is between 25-100 PPM. The Huntington Place engineering team adjusted in areas reading CO at 4-12 PPM to ensure healthy air quality in the vaccine distribution center. Warning texts were sent to all team members for immediate modification if necessary.
The environmental safety inherent in the vaccination site's design was one of the reasons that Huntington Place received the U. S. Green Buildings Council (USGBC) 2021 Community Safe Haven Award at the Michigan Energy Summit. The award recognized the venue for providing several essential community services in downtown Detroit during the COVID-19 pandemic.
In 2019 Huntington Place was the first venue to achieve USGBC Leadership in Energy and Environmental Design (LEED) Gold certification under the new v4.1 O+M standard and is now the largest LEED certified facility in Michigan. Huntington Place received the 2020 USGBC Leadership Award for Building Performance and is the only convention center in the history of the award to do so.