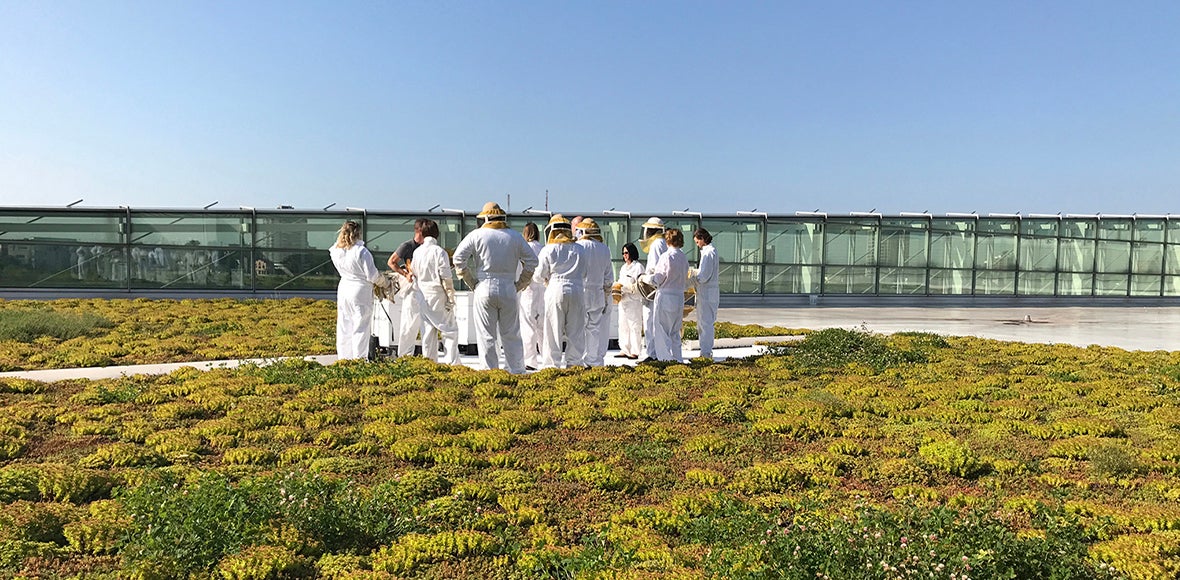 Honeybees flourish on the Huntington Place Green Roof
In the words of Brian Peterson-Roest, founder of Bees in the D, ""Bees have been a symbol of resurrection throughout history. They're also a signal of being prosperous and success and I feel that mirrors Detroit beautifully."
Like Huntington Place, the City of Detroit is quickly and successfully returning to prosperity after the COVID-19 pandemic. Summer is in full bloom along the Detroit Riverfront, in part because of the 250,000 honeybees that live in five beehives on the convention center's green roof, having been installed in 2017 by Bees in the D. These five hives a part of a 200 honeybee hive network that house 12 million bees at 60 locations across five Michigan counties, all placed by Peterson-Roest and his army of volunteers. Anyone wishing to join the effort can find information HERE Upcoming event info for Bees in the D HERE

"The beehives that Bees in the D maintain on our Green Roof keep 250,000 bees busy pollinating our green roof sedum, our landscape plants and lots of other greenery on and around the Huntington Place property," said Becky Bixby, assistant general manager Huntington Place/ASM Global. "The bees are our smallest partners, but some of our most important!"
Bees in the D is a 501(c)(3) nonprofit organization whose mission is to create a cooperative effort between residents, schools organizations, and businesses in the City of Detroit and Southeast Michigan to contribute to both the health of honeybee colonies and native pollinators, and the education of their importance to our environment.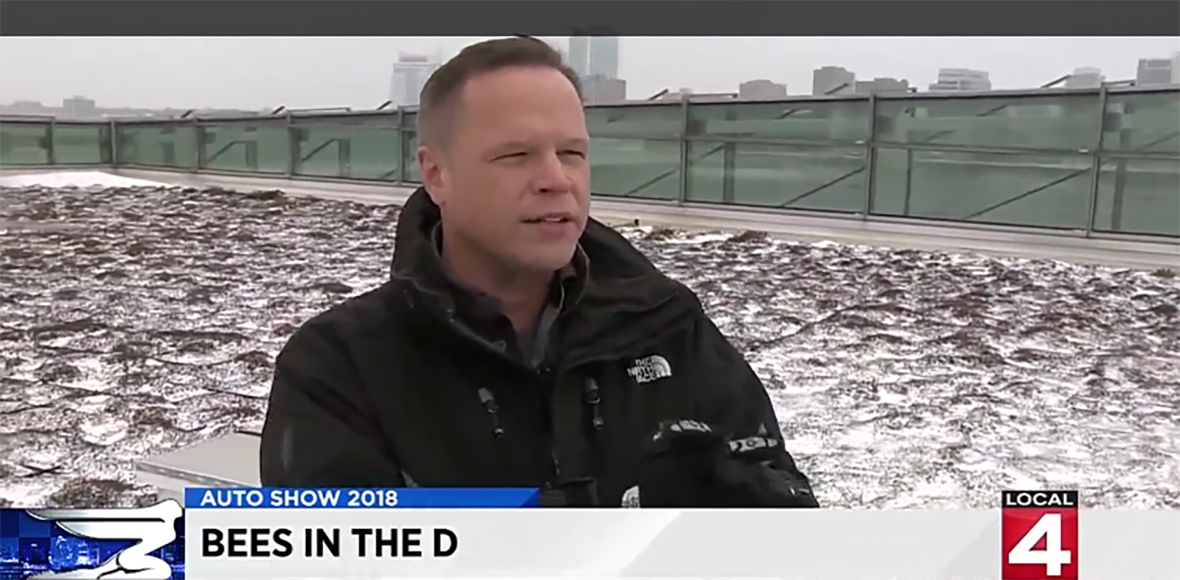 Along with Huntington Place, Bees in the D has an impressive list of Detroit partners including General Motors, Stellantis, Shinola Detroit, Crain Communications, The Henry Hotel in Dearborn, Detroit Foundation Hotel, University of Detroit Mercy, Oakland University, and the National Wildlife Refuge System.
"I would like to see Detroit become a national leader in the conservation of pollinators and promotion of urban beekeeping. Since 2010, I have been a hobbyist beekeeper and have come to realize that they are one of the most amazing creatures on this Earth," said Peterson-Roest "Sadly, if we don't act now, they will be on the brink of extinction. People do not realize the devastation this will cause globally."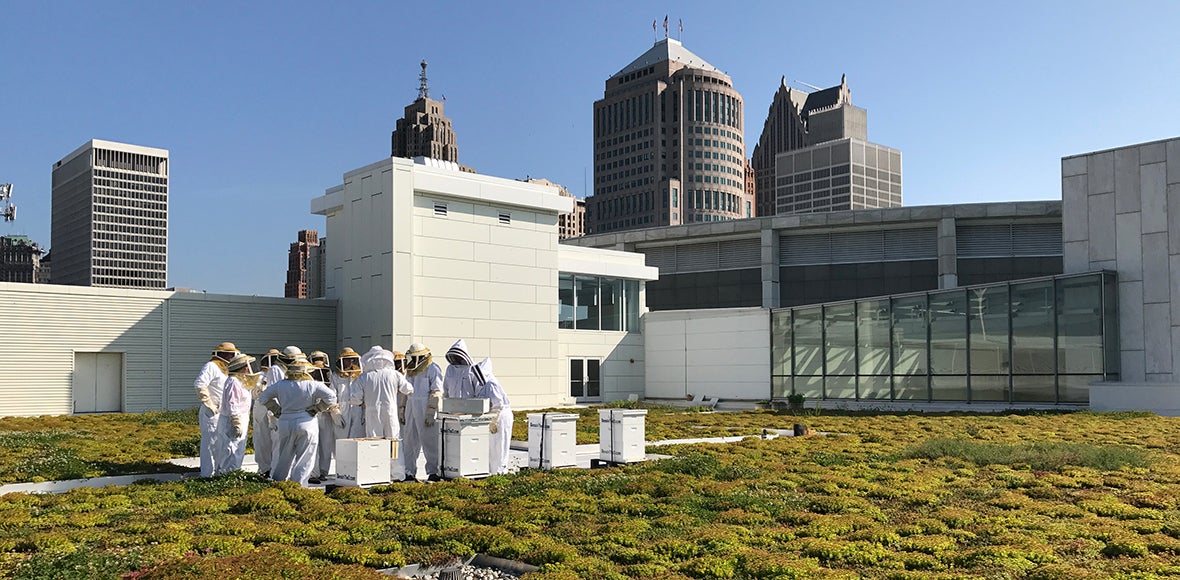 Huntington Place has been led by the ASM Global operating team since 2010, when the team quickly started strategically planning the venue's sustainability program, rolled out by the venue's Green Committee in 2011. Protecting the environment is one of the three pillars of ASM Global's Corporate Social Responsibility Platform, along with Investing in People and Strengthening Communities. Together the two teams, local and corporate, began evolving an effort of environmental stewardship in the center. Huntington Place has received numerous industry awards for excellence since then, including the 2020 U. S. Green Buildings Council Leadership Award for Building Performance and is the only convention center in the history of the award to receive it.
ASM Global continues to rise above its competition as a leader in sustainable operations management, stewardship of the community, and socially and environmentally sustainable practices. Boasting the largest portfolio of more than 40 certified green venues, ASM Global partners with Honeycomb Strategies to offer innovative approaches and sustainable solutions for the portfolio of the world's most iconic venues, including Huntington Place.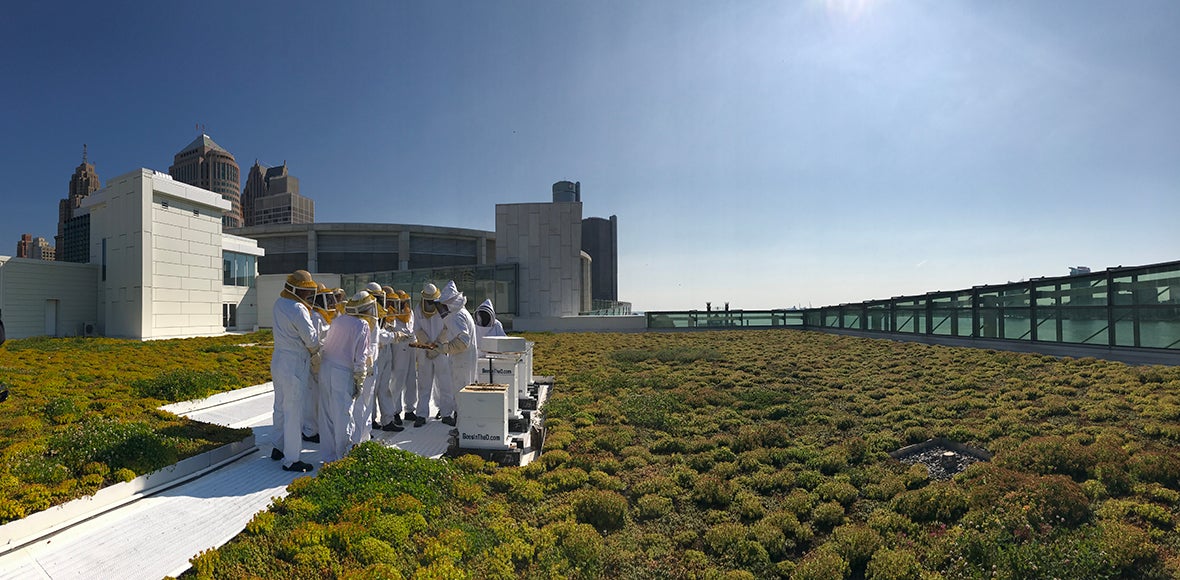 "At Huntington Place in Detroit we have a long history of advocating for and implementing sustainable initiatives," said Karen Totaro, general manager Huntington Place/ASM Global. "As an ASM Global managed venue we have this amazing collaboration that allows us to take the best ideas and get the support we need at a corporate level. Our individual goals are forever entwined with corporate goals…we walk our talk!"
ASM Global is working closely with Huntington Place to achieve the following environmental goals:
Reduce energy consumption by 25% by 2030

20% of all energy consumed through renewable energy sources in 2025

Carbon Neutral by 2050 (milestone 25% carbon reduction by 2030, 50% carbon reduction by 2040)

Divert 50% of waste overall by 2025

Eliminate single use plastic in front of house by 2027

Reduce Water Consumption by 25% by 2030

Award 50% of our reportable spend to suppliers adhering to our Environmental Purchasing Policy by 2030