TCF Center's Game-changing event technologies include in-house broadcast studio
A new story is being written about Detroit and the event industry that we all care about deeply. Customer safety is at the heart of TCF Center's dedication to the new realities for events.
Supported by a dedicated in-house team, the new health, safety and technology offerings at TCF Center are among the best in the business. High-Tech Digital Display Systems, Virtual & Hybrid Event options and an In-House Broadcast Studio are just a few of the game-changing event technologies available when hosting events.
"The technology services at TCF Center are well known for being some of the best on the planet, and we have been working since March to expand our virtual event packages," said Claude Molinari, general manager TCF Center/ASM Global. "We are set up to live stream a meeting of 50 people to another room in the venue, or create an interactive trade show to hundreds of thousands of attendees around the globe."
The broadcast studio at TCF Center is like no other convention center service.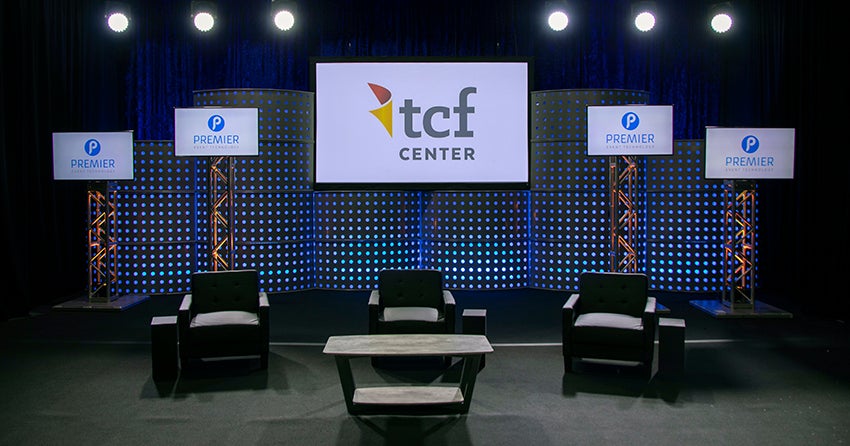 The studio features include:
Turnkey broadcast control room with high-definition broadcast tools for graphics, video and lighting
In-house live and remote presenters, as well as prerecorded material
Capability of hosting in-person presenters, panels and virtual participants
Flexibility for live shots, newsroom, green screen, augmented reality and more
Connectivity between internal fiber network from all points within facility to control room
Access to outside broadcast fiber and satellite networks
High-bandwidth internet service for inbound and outbound streaming
In an ever-changing world, solutions need to be completely scalable and flexible, offering everything needed to market, host, stream, and analyze a virtual event within one platform that delivers 100 percent remote presenters, attendees and crews. Within eight weeks, TCF Center can deliver a complete turnkey virtual event to customers.
Hybrid events include a live audience with produced staging elements (video, audio, LED, lighting). Or presenters, audience and crew can be onsite and can include remote viewers and other presenters from any location to attendees around the globe. A variety of custom options are available.
"Given the current uncertain and rapidly changing event industry environment, the TCF Center team is working hard to get ready for the return of events," said Molinari. "We want show managers to reach out and tell us what they need, their hopes for the future and their concerns. We want to hear the requirements for their event of the new era. We can make it happen."