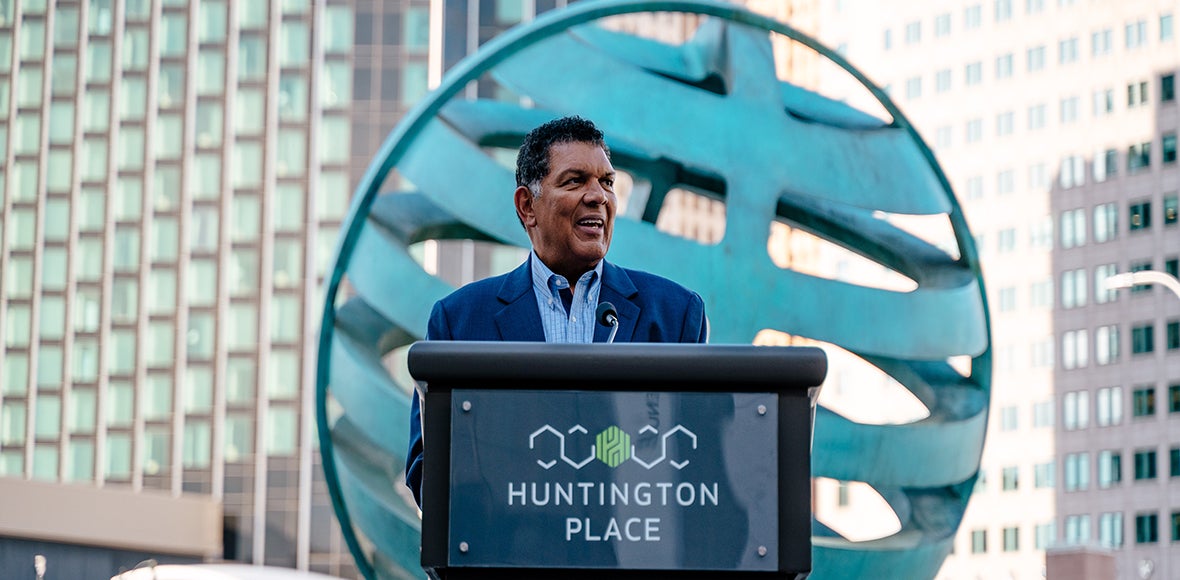 "Floating Citadel" Unveiled at Huntington Place
Huntington Pace has installed and unveiled a stunning new, public art outdoor sculpture Floating Citadel, by internationally-acclaimed artist Scott Hocking, in the main circle drive of the convention center. The sculpture rests in the center of an architectural focal point for the venue, the middle of a circular drive in front of the outdoor riverfront terrace Huntington Place Square, and under the 4,000 square-foot marquee digital sign that illuminates downtown Detroit. It can be seen through floor to ceiling windows in the venue's main public food court.
"Huntington Place offers visitors a freely accessible art collection featuring local artists from all mediums: painting, glass, frescos, murals, and a variety of sculptural forms," said Karen Totaro, general manager of Huntington Place/ASM Global. "It reveals the area's unique culture and gives historical meaning to Detroit."
At the unveiling, the sculpture was dedicated to Larry Alexander, the first chairman of board that oversees the venue for the state of Michigan, the Detroit Regional Convention Facility Authority (DRCFA). His chairmanship lasted from 2009-2021. The sculpture was dedicated to Alexander to honor his leadership during the $279 million renovation that was completed in 2015 which brought business and jobs back to center. Before retiring in 2021, Alexander was also president & CEO of the Detroit Metro Convention & Visitors Bureau for 25 years.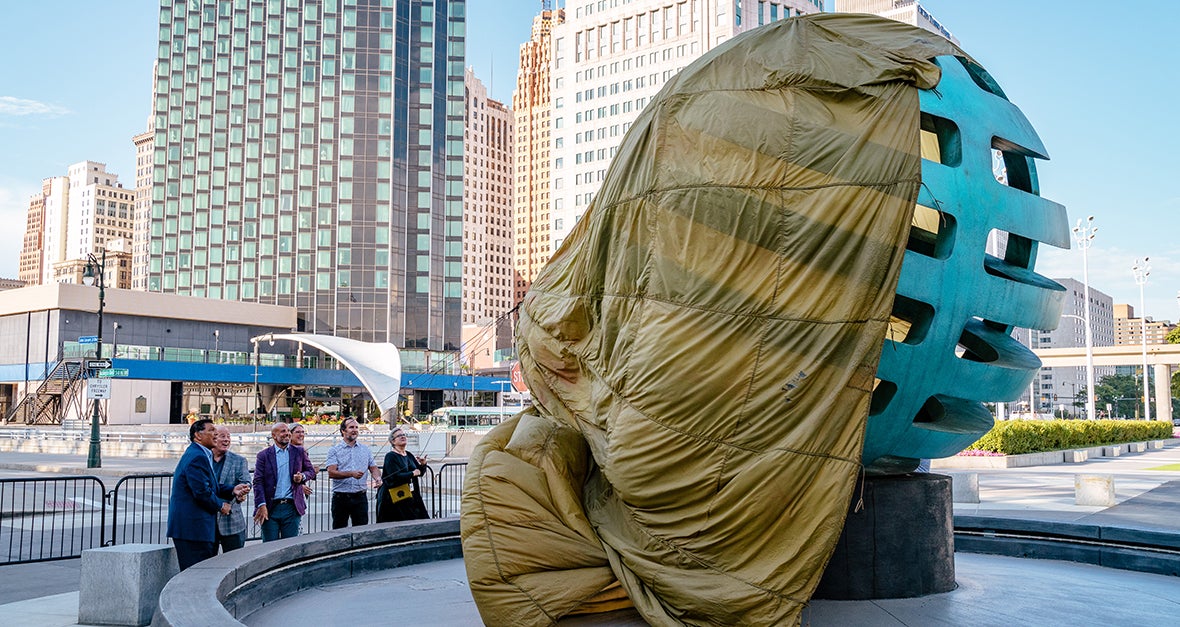 "I am honored to know that my name will be a permanent part of this enduring art piece, which stands as a constant reminder of the responsibility of this great facility, Huntington Place convention center," said Alexander.
Focused on Detroit history and Huntington Place's status as a global hub of activity, Floating Citadel is inspired by everything from ancient native shorelines and French voyageurs, to the city's current status as an artistic, creative, and entrepreneurial beacon. It is influenced by the Savoyard Creek and the original Detroit River edge, which ran within steps of this sculpture's site. The sculpture takes its name from the original walled village boundaries and its defensive core, "the Citadel," which was located where this sculpture stands.
"Great cities have great public art and Detroit is gaining a national reputation for its murals and other forms of beauty we are creating across our city," said Mayor Mike Duggan. "We are fortunate to have this beautiful new work by internationally acclaimed artist Scott Hocking to add to our public collection and to welcome visitors to Huntington Place, which has its own great collection of art to explore and enjoy."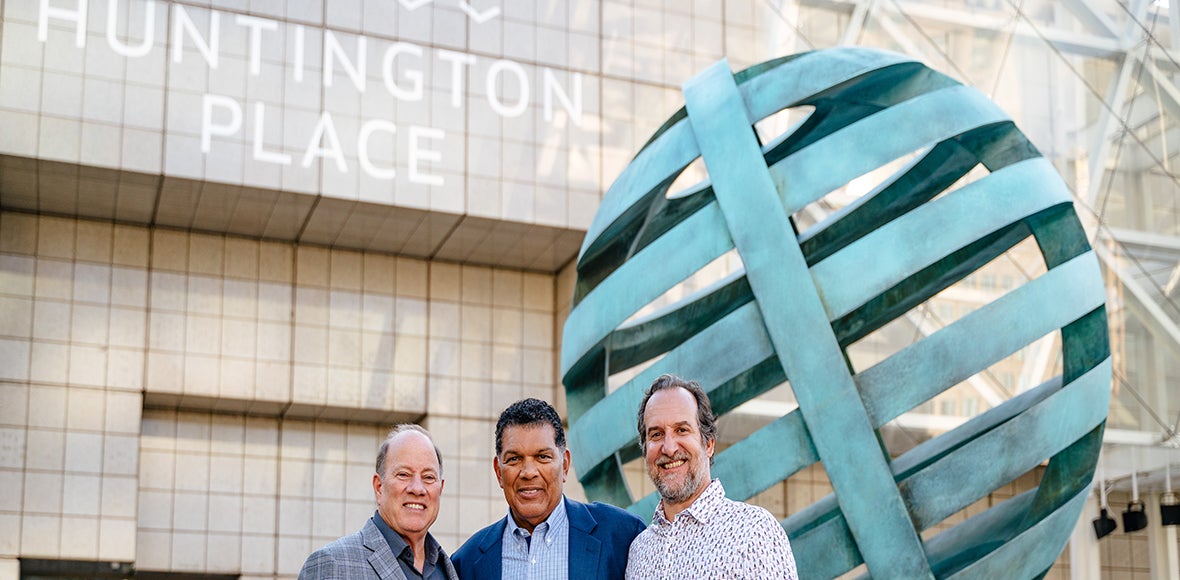 The bronze sculpture harkens back to thousands of years of mining in Michigan's Upper Peninsula, and the copper and iron ore that traveled down the Great Lakes to Detroit, creating an industrial giant and auto-industry capital for over 100 years. All of these highlights through history occurred right where this sculpture is installed, at the corner of Washington Boulevard and Jefferson Avenue in downtown Detroit.
"It's a bit surreal to have my art installed in the Civic Center of Detroit, in the center of the City where I've been my whole life," said Hocking. "So much iconic art and architecture surrounding it, and so many layers of history right on this spot, it's mind-blowing. I'm truly grateful to be a part of that ongoing history, and I feel pretty lucky."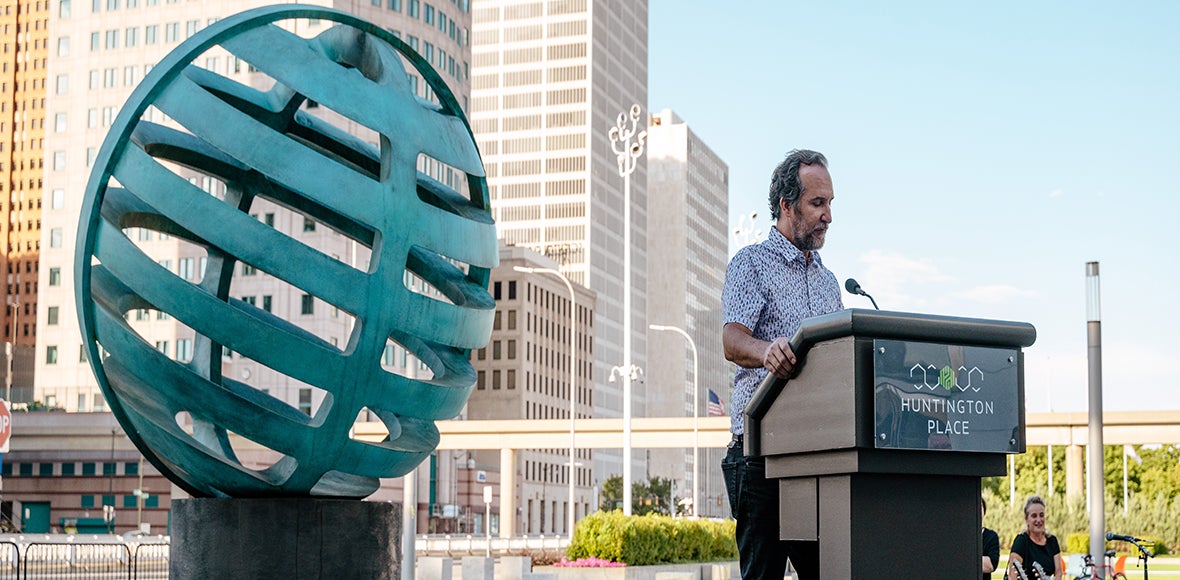 Hocking has received multiple awards, including a Kresge Artist Fellowship, a Knight Foundation Arts Challenge Grant, and an Efroymson Contemporary Arts Fellowship. His work is represented locally by David Klein Gallery, Detroit. More information can be found here.
"When the DRCFA continues to acquire artwork like the Floating Citadel, it provides a rich connection to Detroit history and celebrates the qualities that make our city special," said Totaro. "More than one million people visit Huntington Place each year, and we hope that the artwork continues to challenge, educate, delight and illuminate them."