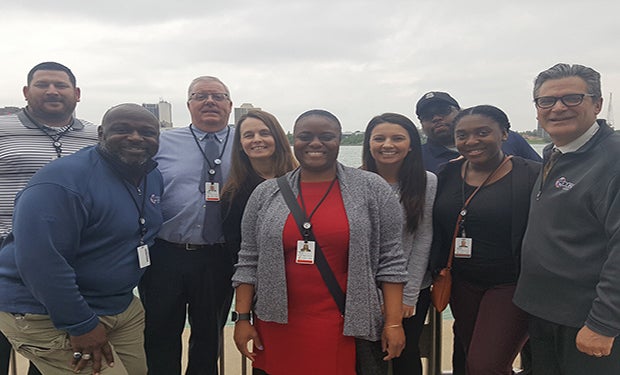 Employees Walk the Riverwalk Wednesdays at Cobo Center
Each Wednesday when the weather is favorable, a large group of Cobo Center staff members participates in Walk the Riverwalk, headed by Cobo's Safety and Security Manager, Bruce Smith. Group walking times are recorded and competition is fierce in the Detroit community! It's a fun and challenging way to spend a summer lunch hour.
Walk the Riverwalk Wednesdays is a no-cost summer walking initiative designed to foster a sense of wellness among people living and working in downtown Detroit. The program is open to anyone interested in participating. Over the course of 16 weeks, registered participants are encouraged to visit the Detroit River on Wednesdays to walk during the lunch hour or during scheduled breaks.
Participants check in via an online portal to record progress and to receive a free gift for every third check in. The initiative kicked off May 10 with a pedometer for all registered participants. Blue Cross Blue Sheild of Michigan is the featured sponsor. More info here