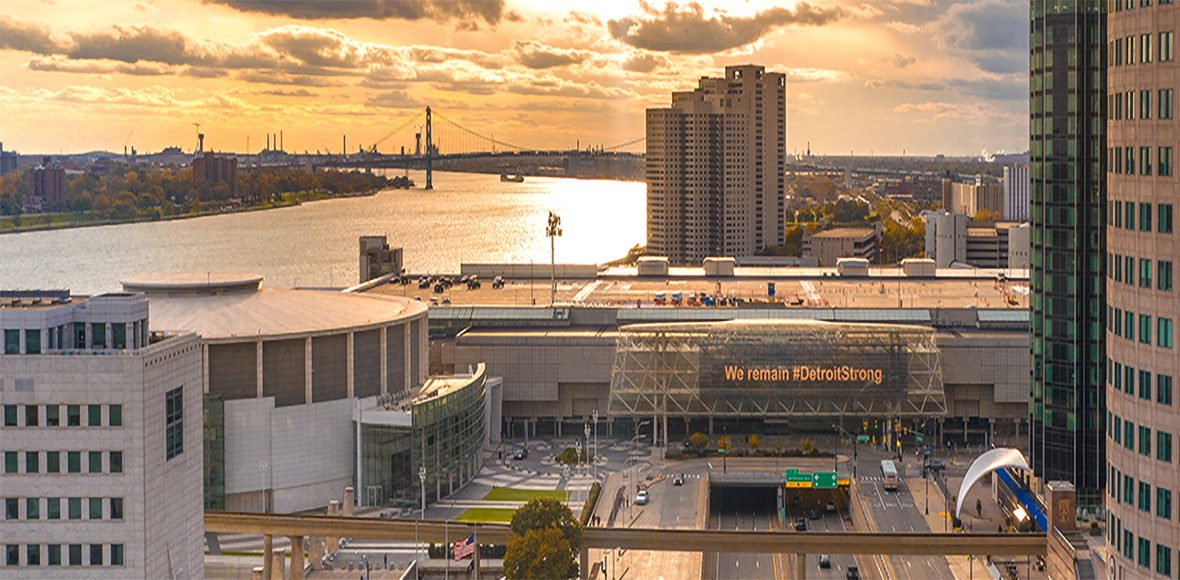 Detroit's convention center announces a new name: Huntington Place
Huntington Place is now the new name for Detroit's world-class convention center, the 16th largest convention center in the country. ASM Global has been managing the day-to-day operations for the center since 2010, rebuilding the business model which resulted in a $20 million reduction of operating deficit, and quadrupling the number of major events held annually in the center from 2010 to 2019. The ASM team also completed a transformation of the customer experience to one that is focused on creating lasting memories for every visitor to Detroit.
"Our partnership with Huntington Bank brings a wealth of opportunities to our community and visitors," said Karen Totaro, general manager Huntington Place/ASM Global. "As we continue to elevate the new Huntington Place as an industry gold standard, the creative, hardworking team here continues to make diversity a strength as it focuses entirely on the success of every event."
Huntington merged with TCF Financial Corp. in June of 2021, creating a top 10 regional bank and changing the Detroit venue's name from TCF Center to Huntington Place. This strengthens Huntington Place's position in offering customers access to thought leaders in Fortune 100 companies for keynotes and education segments, access to Michigan nonprofits to bring CSR initiatives to life during events, and community service resources such as fitness mini-events and job fairs.

The convention center now known as Huntington Place became a civic center for the Detroit region during the COVID-19 pandemic, serving as a field hospital, a day center for homeless services, a food distribution center for Food Rescue US, and the city's largest vaccination site with a drive through facility in the Atwater Garage. The venue reopened with a strong event schedule, discovering that show managers want to partner with an organization that values the community they serve.
"We are proud that following the TCF-Huntington merger, the name of our new combined bank now graces the walls of this civic center that means so much to the people of Detroit and all of southeast Michigan. From high school graduations to the North American International Auto Show (NAIAS,) from speeches by sitting presidents to the annual NAACP Fight for Freedom Fund Dinner, this venerable facility is part of the fabric of our community and Huntington is fortunate to now be a part of it," said Gary Torgow, chairman, Huntington Bank.
The venue has hosted some of the most important meetings and conventions in the country, ranking it among the top 20 in the nation. In 2022 the venue looks forward to hosting several new trade shows such as Connect Marketplace and the Silicone Expo, the World's first free to attend commercial trade show and conference for the Silicone industry. These along with the return of the Detroit annual trade shows such as Autorama, the Detroit Boat Show and NAIAS will mean a spectacular comeback for events.

"Our naming rights agreement, which was a priority for the Detroit Regional Convention Facility Authority (DRCFA,) began with TCF Bank and continues with Huntington Bank in strengthening the Center's financial future. We are dedicated not only to being a contributor to our region's economic vitality, but also to creating jobs and enhancing the attraction of our destination to visitors," said Lisa Canada, chairperson of the DRCFA. "Both of our organizations have a deep commitment to the communities we serve."
Against the backdrop of an international riverfront, Huntington Place projects continued future growth for world-class meetings, conventions and event business in 2022. Prior to 2020, Huntington Place attracted nearly 1.5 million visitors annually.
Huntington unveiled a $40 billion Strategic Community Plan, just one week after the merger, to improve financial opportunities for customers. With focuses on affordable housing, small business and increased capital to historically disadvantaged and low-to-moderate income communities, the plan will serve businesses and communities.