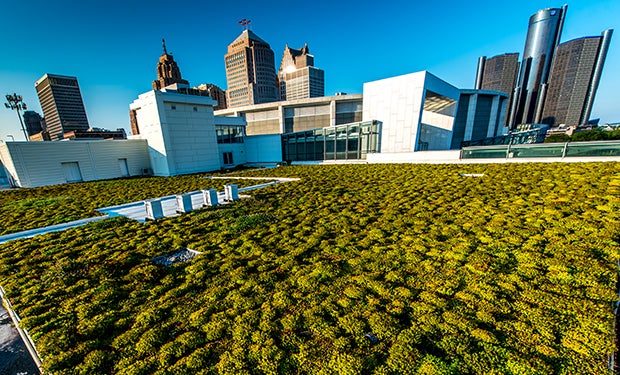 Cobo Center grows two more shades of green in 2018
Plans to install a visitor observation area near the living green roof, filled with instructional signage for visitors to learn about the Cobo Green program, are in the works. Along with that, and prior to the 2018 North American International Auto Show Jan. 13-28, Cobo will also make nursing mother lactation stations available to employees and visitors.
Visitors entering Cobo Center from rooftop parking near the living green roof will see artist murals, signage and other items designed to inform on all of the sustainable projects they can see through the floor to ceiling windows overlooking the green roof.
"'Sustainability Lives Here' is not just a catchy phrase in Cobo Center," said Christina Lovio George, CEO of Lovio George Communications & Design, Cobo's PR agency that will be designing the area. "It's a mission, fully embedded in the facility operations, and we are fortunate to be part of this effort that improves the entire Detroit community."
Arriving in January, prior to the 2018 NAIAS, will be two portable Mamava suites with benches, tables, mirrors and electricity for use by nursing mothers. The lactation stations can be moved to other parts of the facility and locked with a mobile app and Bluetooth enabled smart lock.
"We are constantly on the lookout for potential community partners that will enhance the ecosystem we are creating in Cobo Center," said Claude Molinari, general manager. "From visitors that help recycle and compost, to companies that contribute to our living green roof environment, each of us plays an important role in being a good steward of our planet's resources."