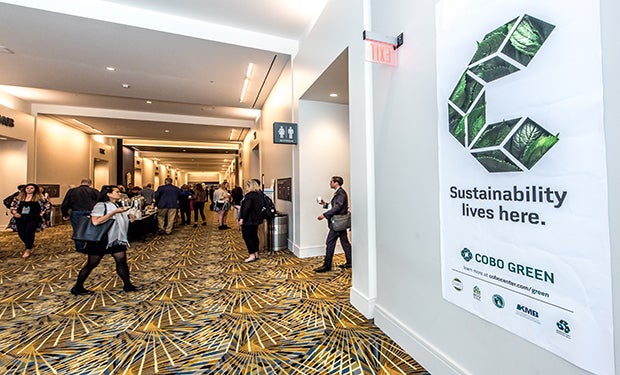 Cobo Center hits 92% diversion rate for 2017 Sustainable Brands
Cobo Center redesigned its sustainability marketing campaign to get ready for Sustainable Brands 2017 Conference May 22-25. The new campaign design reflects the giant step forward achieved in the program with the Cobo/SB17 partnership.
"This was the perfect time to give a new look and feel to our sustainability efforts in Cobo," said Claude Molinari, general manager. He added, "The ongoing partnership that the Cobo Center Green Committee has developed with Sustainable Brands lit a fire under our facility Green initiatives, and this campaign reflects that."
Along with realizing a 92% diversion rate, the Cobo Executive Green Team initiated several new reporting practices to accommodate the event. The complete event data report can be viewed here Cobo Center recently re-certified under the GMIC ASTM/APEX standard for Green venues, and was originally the 9th facility in the United States to do so in 2015. More info here