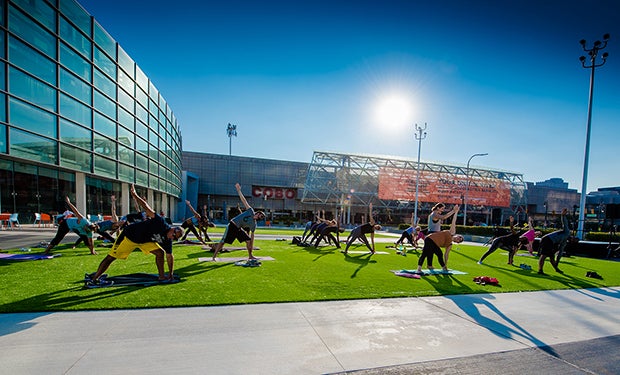 2018 Cobo Cares season launches with sunrise riverfront yoga
On May 23, Cobo Center opened its 2018 community engagement series, Cobo Cares, with "Sunrise Riverfront Yoga" on the outdoor terrace outside of its Grand Riverview Ballroom. Cobo employees, event attendees and members of the Detroit community all enjoyed a Slow Burn/Basics yoga session provided by Citizen Yoga, a local agency, as the sun rose over the Detroit River.
Cobo Center also accepted donations during the event for Bees in the D, a local honeybee education and protection non-profit that maintains four hives on Cobo's living green roof. The Society for Freshwater Science was having its annual meeting in the facility at the time and partnered for the Cobo Cares season kick off.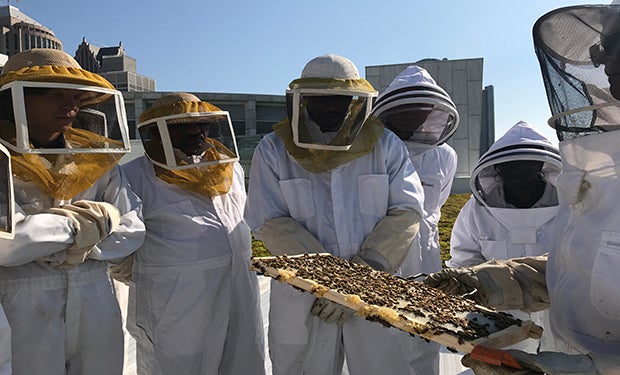 Other free events for the 2018 Cobo Cares season, free to the public, included "Find Your Center Yoga" on July 9 conducted by Lauren of Citizen Yoga. Donations from the event went to Life Remodeled, a Detroit agency that helps rebuild local neighborhoods.
Zumba with Ivy was scheduled July 19 on the outdoor terrace Cobo Square, overlooking the Detroit skyline. Voluntary donations to the free event benefited Detroit Little Libraries, an agency that places book-sharing boxes where they can be a catalyst for improving reading motivation and deepening community connectedness.
In case of inclement weather, all Cobo Cares events are held indoors at the Cobo Center atrium. More free events will be scheduled into the fall season, so stay tuned for the upcoming schedule.